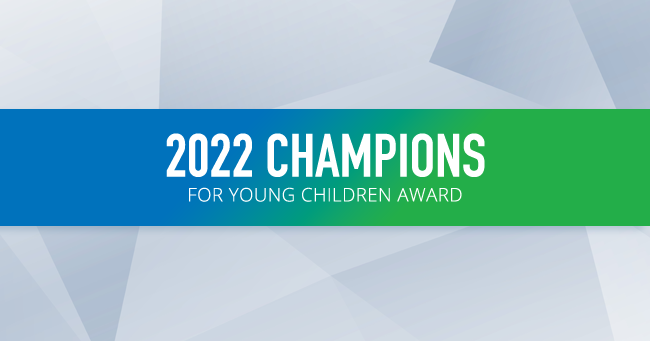 First Things First is honoring early childhood champions throughout Arizona who actively volunteer to raise awareness of the importance of early childhood. This year, the FTF Regional Champions for Young Children include a retired engineer, a speech and language pathologist, a president of a moms' group and 19 others.
These volunteers work to help their community better understand the importance of early childhood in a variety of ways.
In the FTF Pima North Region, retired engineer Mike Moyer led an effort to host community screenings of the documentary "Resilience," which highlights the impact of Adverse Childhood Experiences (ACEs) and toxic stress.
In November 2020, Moyer approached the University of Arizona Cooperative Extension's Family Engagement program staff after watching "Resilience."
While watching the film, Moyer said he was moved by how experiences in the first five years can shape an individual's life trajectory, and he knew he wanted to do something in order to raise community awareness around this issue.
"As an engineer, when I see a problem, I can't help but start thinking of solutions," Moyer said. "The film highlighted many physical and mental health problems that seem to be getting worse lately, and the strong correlations between these problems and ACEs.  If we can reduce ACEs, we can reduce a lot of physical and mental health problems that young children and families are facing."
He began working with the Family Engagement program, which includes parent education workshops that offer tools to make parenting easier and more intentional, to provide funding to screen the film for individuals throughout Pima County. Since early 2020, over 500 community members, including FTF regional council members and community partners, have viewed the film.
In addition to film screenings, the Resilience project involves community-building efforts to measure the impact of ACEs and how to collectively work to mitigate the effects of ACEs and prevent them altogether.
In the FTF Coconino Region, Tina Nation connects families to the FTF-funded Birth to Five Helpline as a way to support caregivers who are looking for advice and resources in their community.
Nation, who is a speech and language pathologist, also raises awareness about FTF by connecting other speech and language pathologists to FTF's early childhood information so that other professionals in the area understand how to support families with various needs beyond the child's speech delays.
"I think it's really important for people to have a good idea of what typical development is and where to go for resources, even just a general idea," she said. "Even though my job was speech-language pathology, the family might be out of formula or diapers so how are they supposed to implement this fun speech game if the baby doesn't have a dry diaper."
Over the past year, Nation has helped families understand the importance of early intervention in speech delays. In her work as a private speech pathologist, she has referred families to resources using FTF as a starting location for families. During her visits, she shares information about resources in the community that help connect families to essential needs like where to get food and diapers. She works in multiple communities across the FTF Coconino Region, making sure that families understand how important the development of the whole child is.
Kathy Alsop is a strong advocate and ardent volunteer for early childhood awareness and sharing the importance of early childhood with families in the community. She is the founder and president of the MOMS Club Gilbert North – a local chapter of the International MOMS Club.
After moving to Gilbert, she quickly connected with the FTF Southeast Maricopa Region and started the MOMS Club Gilbert North chapter because of her passion to support young children and their families.
"I choose to support young children and families because we as a community must take care of our future generations," Alsop said. "I firmly believe that it takes a village to raise a child. With the support and programs offered through First Things First, our families can find comfort in knowing our questions have answers and there is help when we need it. First Things First gives families the tools and knowledge to raise young children, and my mission is to make every family aware of those opportunities."
She enthusiastically volunteers her time to educate and empower parents and caregivers to feel confident in their important role as their child's first teacher. She's always willing to share FTF educational materials paired with early childhood messages when supporting parents at her MOMS Club open houses and events. She also distributes family guides so that parents and caregivers know about free programs available for families with young children. She even keeps FTF materials in her trunk and shares the resources throughout the community.
Alsop helps organize her MOMS Club monthly service projects. One project supported NICU families at Banner Children's at Desert in Mesa. The club donated 70 welcome bags that included FTF-sponsored children's books and bookmarks with information about the rapid brain growth a child experiences from birth to age 5.
She also regularly shares FTF digital content on the MOMS Club Gilbert North Facebook page to connect parents with resources and support.
For more information about all the recently named 2022 Champions across Arizona, visit FTF Region Stories.