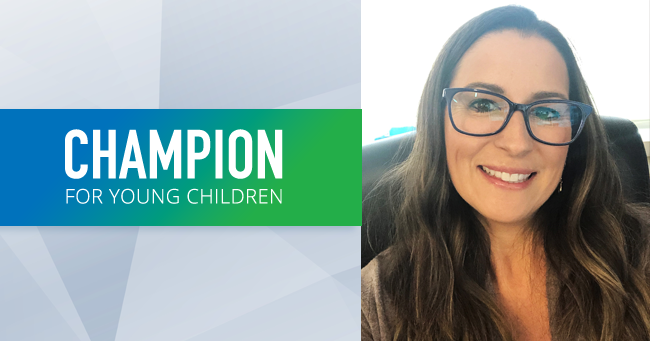 Cody Alvarez has been selected as the 2022 First Things First Phoenix North Region Champion for Young Children.
The award is given to local champions who actively volunteer their time to raise public awareness of the importance of early childhood development and health. 
Alvarez has been a longtime First Things First Champion. Since 2016, she has shared FTF's early childhood resources in the main area of The Foundation for Blind Children, where she is the youth and family services manager. When the COVID-19 pandemic caused organizations to shut down and pivot to digital support, Alvarez made sure the parents in the Parent 2 Parent program were connected to FTF's digital resources on FTF's website and social media channels.
Alvarez spotlighted FTF during the organization's Fall Festival, where many families visited the information table that evening. The family-centered event focused on providing activities and opportunities for the families to interact with staff and each other. There was a trunk or treat decoration contest, chili contest, costume contest, petting zoo, bounce house, face painting and sensory stations. More than 30 families with children birth to age 5 were engaged. Families learned about FTF and the importance of early childhood. They also received family guides to learn about the programs that FTF funds. The young children received age-appropriate books, bookmarks, crayons and a squishy brain, which provided tactile and sensory activities for children with vision impairments.
We recently caught up with Alvarez. 
QUESTION: Why did you choose to show your support for young children and families?
ANSWER: I love working with our families because it's so important for them to know they are not alone. Having a baby is a very exciting and scary time where new parents can benefit greatly from resources to help their baby thrive. By providing a variety of services, the families will become informed, prepared, confident, and resilient.
QUESTION: What is motivating you to support babies, toddlers and preschoolers directly or indirectly?
ANSWER: Over the years it has been so wonderful to see the growth of the whole family. When a baby hits a milestone, it's a celebration for everyone. When the parents connect with other families, who are on a similar journey, it's another milestone. I love the fact that our services are for the whole family. It's also very exciting to see the babies get older and move into our preschool program. By offering the continuum of services we get to help them successfully transition to the next stage in life.