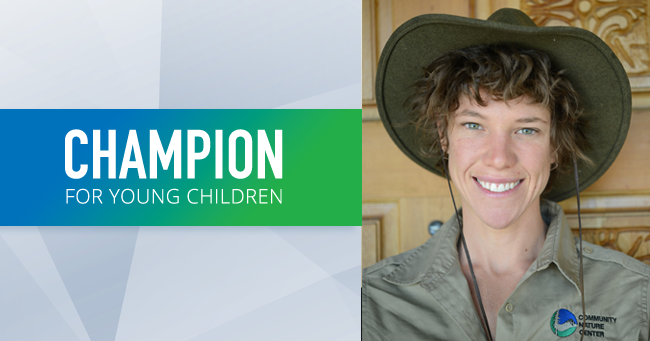 Ellen Bashor has been selected as the 2022 First Things First Yavapai Champion for Young Children.
The award is given to local champions who actively volunteer their time to raise public awareness of the importance of early childhood development and health. Champions spend a significant amount of time volunteering with FTF and building public awareness about the importance of early childhood issues.
Bashor is the Education Director for the Nature Nino's program, an intergovernmental agreement between Prescott Unified School District and the City of Prescott's Community Nature Center, and has been an Environmental Education instructor at Prescott College for five years.
As a Champion, she distributes FTF family guides, which provide information on free programs available for families with young children and other early childhood information so families are aware of what is offered in the Yavapai region.
We recently caught up with Bashor.
QUESTION: Why did you choose to show your support for young children and families?
ANSWER: Children inspire me to do this work. Every moment I am with children in nature I see the ways in which they shine a little brighter, their curiosity grows, their senses engage, their imagination lights up and they transform, or perhaps instead they return. Watching them return to their best selves, watching children blossom who are normally shut down indoors, watching them dance instead, since there's no walls to bounce off of — That's what inspires me to keep fighting for every child's right to a healthy, safe, and strong development through essential time outdoors and connections with the natural world.
QUESTION: Why do you think it's important for people in your field/position in the community be a champion of young children and families?
ANSWER: It's vital that folks in outdoor, environmental, recreational, and health fields understand that birth to age 5 is the most essential time for us to begin taking children outside. Brain research from the Harvard Center for the Developing Child shows us so clearly that the older we get the harder it is to change and develop new neural pathways in the brain — if we truly want to create future citizens who engage in regular healthy physical activity, who work harder, focus longer, and have stronger mental health and more positive social interactions, we need to start by getting children outdoors from in the womb on up. We throw millions into diagnostic care which could've been avoided through preventive health measures like time outdoors, moving our bodies, managing our weight, gaining Vitamin D, building stronger eyesight and stronger neuro and musculoskeletal development, plus healthy gut microbiomes and immune systems capable of carrying us through the typical ups and downs of life.
It's hard to change a habit once it's built. Whether you are trying to cultivate a generation of children who care about our natural world, or a generation of healthier and stronger human beings, or a generation of scientists who will invent the next cure.
Outdoor time from birth onwards provides the essential wellness opportunities, developmental support, and academic enrichment that children need to become the adults our world needs. Not to mention, the greatest return on our investments starts from Day 1. If you want to make the biggest impact, whatever your agenda, find ways you can reach and serve the youngest learners and their caregivers. This is economically smart, environmentally sound, neurologically proven, and honestly the best decision I have made with my career and life striving to build a healthier and more sustainable future for every child in my community.