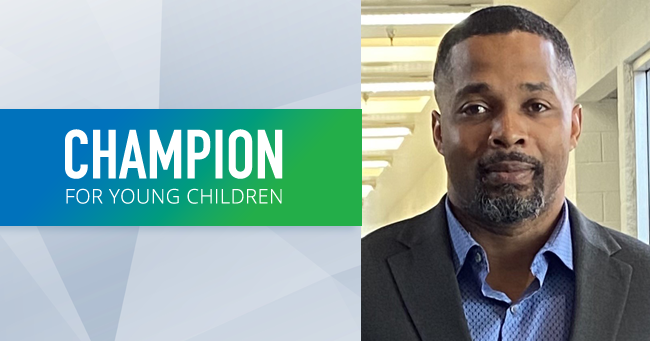 Frederick Quarles has been selected as the 2022 First Things First Southwest Maricopa Regional Champion for Young Children.
The award is given to local champions who actively volunteer their time to raise public awareness of the importance of early childhood development and health.
Quarles, who is executive director of Southwest Valley YMCA, has actively worked with FTF to increase early childhood opportunities by seeking to open new classrooms at the YMCA, as well as build partnerships in the community.
Quarles and his team welcomed a community garden in Spring 2022, with the support of FTF. This garden provides outside enrichment opportunities for the 30 children onsite in the early childhood program. In April, the Southwest Valley YMCA hosted Healthy Kids Day at their facility, where they welcomed non-profits, human services programs, and FTF partners to share resources with families in attendance.
We recently caught up with Quarles:
QUESTION: What is motivating you to support babies, toddlers and preschoolers directly or indirectly?
ANSWER: My family motivates me to support babies, toddlers, and preschoolers. I have four children and they follow in these categories. My boys are 7 and 7 weeks and my girls are 4 and 2. I strongly believe that if a child is in a loving and supportive environment that they will have the opportunity to be successful. That does not mean that they will not make mistakes in life because they will, early and often. The environment will use the mistakes as teachable moments.
QUESTION: Your actions make early childhood a priority. What inspires you to do that work?
ANSWER: God blessed my wife and me with four amazing children (Fred III, Faith Grace, Felicity Joy and Fenix Emmanuel). My wife and I have made it a priority in our household to invest in the development of our children at an early age. We decided together that it would be in the best interest of our children to homeschool. This was not a favorable decision in our family because this was not the norm, but it was the best decision for our family.
We realize that not every family can make the same decision. One of the things that inspires me the most is being in a position to help families make early childhood education a priority. The YMCA has provided me with a team and a platform to make this impact. We currently offer programs that start at six weeks, so we have an opportunity to pour into our kids at an early age.