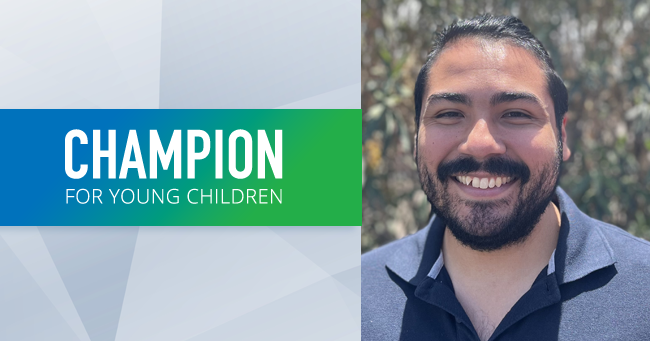 Ruben Gonzalez has been selected as the 2022 First Things First Phoenix South Regional Champion for Young Children.
The award is given to local champions who actively volunteer their time to raise public awareness of the importance of early childhood development and health. 
Gonzalez, who is a community outreach representative for UnitedHealthcare Community Plan, consistently works with parents of children birth to age 5 in the community to understand the importance of early childhood development and health.
After connecting with FTF, Gonzalez included FTF as a part of his planning strategy. He would request materials such as cloth bags, milestone moment booklets, but most of all, storybooks for children birth to age 5, which included infant and toddler board books, bilingual and health-focused books.
He also provided books to mothers graduating from a prenatal class hosted at Unlimited Potential — which is a promotora, or community health worker-driven program. At Unlimited Potential's recent holiday event, Gonzalez presented and distributed books to mothers and children who join the weekly classes. During this event, parents were encouraged to read with their children during a reading activity.
Gonzalez also has a close connection with the Wesley Community and Health Center, near 7th Street and Buckeye Road. Gonzalez and his team coordinated a prenatal program to give Wesley patients the opportunity to meet with a promotora. Every patient enrolled in the prenatal program had the opportunity to learn the importance of early childhood, which covered developmental stages of a child birth to age 5. As an incentive the two agencies created a prenatal bag mothers could receive after meeting with the promotora three times. The bags had diapers, wipes, and other useful items including books that FTF donated for the program.
We recently caught up with Gonzalez.
QUESTION: Why did you choose to show your support for young children and families?
At United Healthcare we focus on the whole family, my goal is to help every person that I interact with in the community. I think it is important to empower families by giving them the tools they need to make educated decisions on health care, education and child development. This helps families succeed in the long run and learning about the importance of their child's development is just one of the many pieces we use.
QUESTION: Your actions make early childhood a priority. What inspires you to do that work?
ANSWER: Seeing families in the communities I serve growing and working toward healthier lives is what inspires me. Children are the future, and I think it's imperative to educate the community on the importance of early childhood development. Having children of my own, I understand how crucial a child's brain development is between birth to age 5. I love to share this knowledge with the families I serve in hopes that I can help them achieve their goals.