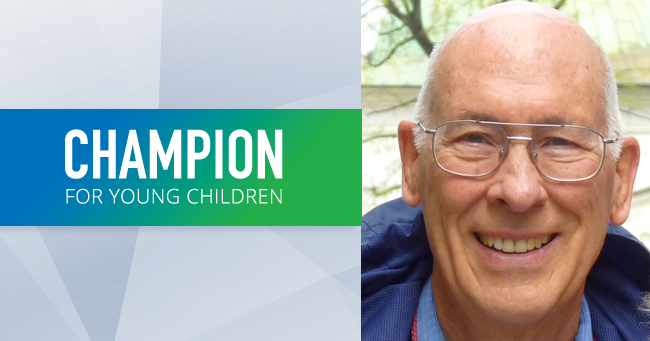 Mike Moyer has been selected as the 2022 First Things First Pima North Champion for Young Children.
The award is given to local champions who actively volunteer their time to raise public awareness of the importance of early childhood development and health. 
In November 2020, Moyer approached the University of Arizona Cooperative Extension's Family Engagement program staff after watching the documentary "Resilience," which highlights the impact of Adverse Childhood Experiences (ACEs) and toxic stress. Throughout the film, Moyer was moved by how experiences in the early childhood years can shape an individual's life trajectory, and he knew he wanted to do something in order to raise community awareness around this issue. He began working with the Family Engagement programs, which include parent education workshops that offer tools to make parenting easier and more intentional, to provide funding to screen the film for individuals throughout Pima County. Since early 2020, over 500 community members, including FTF regional council members and community partners, have viewed the film.  In addition to film screenings, the Resilience project involves community-building efforts to measure the impact of ACEs and how to collectively work to mitigate the effects of ACEs and prevent them altogether.
We recently caught up with Moyer, who is a retired chemical engineer. 
Why did you choose to show your support for young children and families?
I was blown away by the film, "Resilience" five years ago.  As an engineer, when I see a problem, I can't help but start thinking of solutions. The film highlighted many physical and mental health problems that seem to be getting worse lately, and the strong correlations between these problems and ACEs.  If we can reduce ACEs, we can reduce a lot of physical and mental health problems that young children and families are facing. EVERYONE should see the film, "Resilience." 
Your actions make early childhood a priority. What inspires you to do that work?
Science has shown that ACEs and toxic trauma physically and permanently affect the brain. Science has also proven that our brains develop fastest during the first five years of life. Unless a loving, caring adult teaches children resilience and how to cope with such adverse experiences as they occur, the children grow up to struggle with mental and physical problems, and our community pays the price.