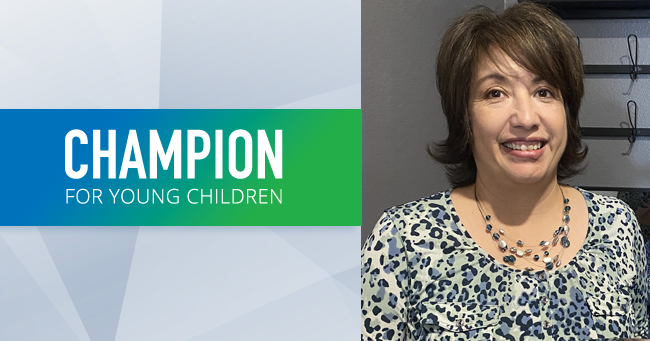 Senaida Larson has been selected as the 2022 First Things First Northwest Maricopa Champion for Young Children.
The award is given to local champions who actively volunteer their time to raise public awareness of the importance of early childhood development and health.
Larson is the team lead for the Airman and Family Readiness Center at Luke Air Force Base. She is passionate about providing families on the base the resources they need when they arrive. Larson invites FTF to many of the base's events to provide military families with early childhood information and the free FTF-funded programs available to them.
For example, the base hosts Bundles for Babies, a monthly event, where pregnant couples receive information about resources available to the pregnant mom, newborn baby and family. Larson includes FTF every month where families receive information about Quality First, the Birth to Five Helpline and FTF's online resources.
We recently caught up with Larson.
QUESTION: Why did you choose to show your support for young children and families?
ANSWER:  I choose to support young children and families because in my line of work it is important that families receive support and services they need so the children their children can thrive. Being able to have community resources available to families is an invaluable service. I have had some of the families I work with utilize FTF services. They have been so relieved to learn that they can receive the support they need and that some of the resources are just a phone call away.
QUESTION: Why do you think it's important for people in your field/position in the community to be a champion of young children and families?
ANSWER: I feel it is important for people in my position to be a champion for young children and families because working on the military base we encounter so many unique situations. Some military families have a tendency to rely only on the resources offered to them on the base and don't realize how much the community can help. FTF has helped many families with resources, educational opportunities and support in the community that some of our families had no idea they could tap into.