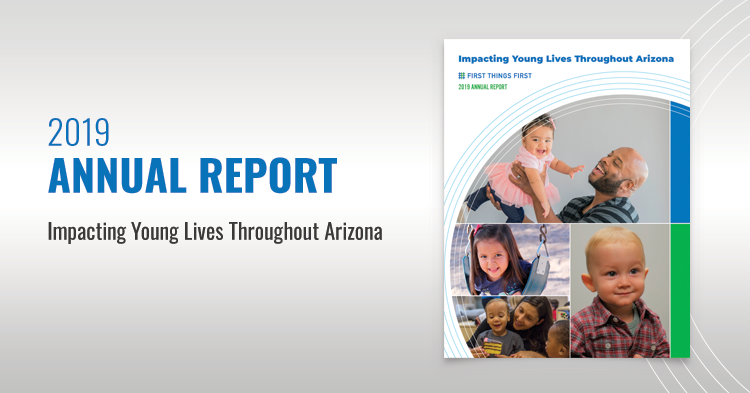 When Arizonans created First Things First (FTF), they envisioned an organization that would work with communities and families to promote school readiness for our youngest children. Our 2019 annual report, "Impacting Young Lives Throughout Arizona," details our collective success in realizing that vision.
Among the progress described in the report:
The percentage of providers participating in our Quality First program who meet or exceed rigorous quality standards has increased from 25% in 2013 to 76% this year. That means that more than 45,000 children were in quality early learning programs.
Our Quality First Scholarships ensured almost 9,200 infants, toddlers and preschoolers were able to access quality early learning.
We screened almost 42,000 children to identify developmental, sensory or oral health issues which, left unaddressed, could become learning problems later on.
And, through our on-going partnership with the Arizona Department of Economic Security, we were able to leverage our successes to preserve more than $37 million in federal child care funds that otherwise may have been lost.
The past year has not been without its challenges. The annual report also details how tobacco revenue – the main source of funding FTF counts on to do its work – continues to decrease. The report also shows how our Board is using research and data to plan for the long term sustainability of our efforts. It also describes a new initiative – the Early Childhood Scholarship Fund through the Arizona Community Foundation – that gives individuals, businesses and organizations the opportunity to invest in school readiness for all children.
One thing is clear. Given the on-going issues facing young children, it is going to take everyone doing their part in order to ensure our children are ready for school and set for life. Please visit our Take Action page to learn more about what you can do to be part of Arizona's movement to prepare our children for success in kindergarten and beyond!