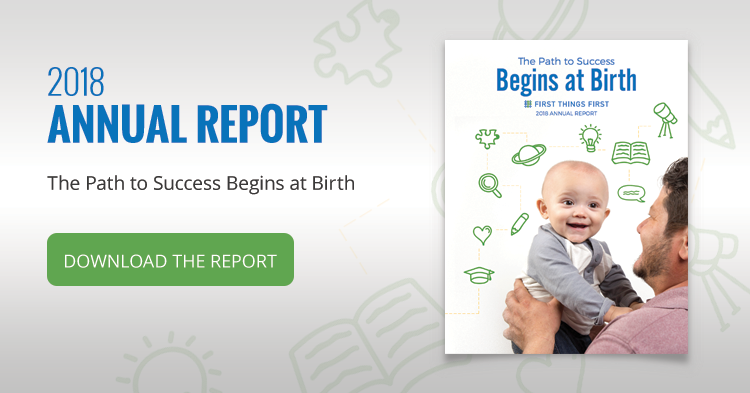 The number of children with access to quality early learning has doubled. Thousands of families have access to home visiting programs that are proven to improve family resiliency and increase school readiness. Communities throughout the state are working on addressing gaps for young children in local health systems.
These and other impacts of Arizona's early childhood investments are detailed in the 2018 First Things First annual report. The report also includes data about the needs of young children – and the programs working to meet those needs – to inform and inspire work on behalf of children birth to age 5.
The report, "The Path to Success Begins at Birth," recognizes that a child's early experiences lay the foundation for success in school and life. Through First Things First, Arizona has expanded the early childhood programs that prepare a child for success in kindergarten and beyond.
Some highlights of the report include:
The percentage of child care and preschool programs meeting or exceeding rigorous quality standards increased from 25 percent in 2013 to 74 percent this year;
Thousands of Arizona families are participating in evidence-based home visitation programs that are proven to promote resiliency, enhance child well-being and promote school readiness; and
Partnerships with state agencies have preserved millions in federal funding for our state and are helping to align efforts to improve the early education and health of young children across multiple system partners.
This report also celebrates the dedicated volunteers who help make all of these successes possible through service on our Regional Partnership Councils, specifically those council members who have dedicated 10 years to our collective efforts. They remind of us of two things: that everyone has a role to play in improving outcomes for young children; and that making a difference for young children in our communities takes time and dedication.
We hope that you will read "The Path to Success Begins at Birth," and learn more about what First Things First – in collaboration with partners statewide – is doing to ensure more children in Arizona are ready for school and set for life.