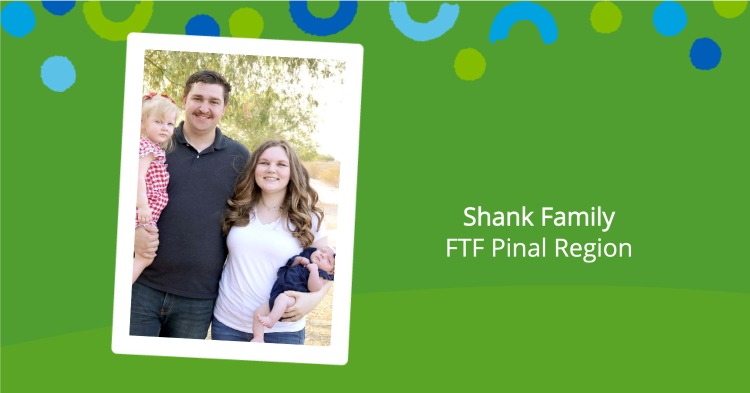 Like many Queen Creek families last year, Tori Shank, her husband Nathan, and their infant daughter Kayleen didn't have a lot of interactions with other families due to the COVID-19 pandemic.
As restrictions lessened, it wasn't until her family met with relatives over the Thanksgiving holiday that Kayleen, who was 17 months at the time, was able to play with a group of cousins similar in age. As a first-time mom, Shank noticed her daughter's speech appeared to be behind the other children.
Several people tried to convince Shank that Kayleen's speech delay was nothing to be concerned about. But Shank's mom, who works as a dental hygienist for the University of Arizona Cooperative Extension in Pinal County, knew the Cooperative Extension offers free sensory and developmental screenings.
Shank jumped at the opportunity to have her daughter screened.
For many families with young children, it is difficult to know if a small delay is possibly something more significant. Regular screenings can help ensure that a child is meeting their developmental milestones. For those who are behind, the screenings can address a delay before it develops into something bigger.
"If we know there is an issue that needs to be addressed, we can address it early in life, so when kids get to kindergarten, they are going in on the same level as other children," said Esther Turner, senior program coordinator for the UA Cooperative Extension in Pinal.
Sensory and developmental screenings can be conducted in a variety of ways, from in-person screenings, traditional mail, live video chat or phone conferences. Using the online screening tool, Shank discovered that her daughter's speech was delayed. Kayleen was going to need some additional supports. The program arranged for Shank and Kayleen to connect with a speech therapist and set up a schedule of care.
Sensory and developmental screenings do not diagnose, but as in Kayleen's case, they are an important indicator if further evaluation is needed. Following up with providers can be a big hurdle for parents, which is why such wrap-around services are essential, Turner said. If additional follow-up is needed, the program will help the family find a provider.
"We want to help with that navigation," Esther Turner said, "so we know that they are not going to fall through the cracks."
While sensory and developmental screenings are an essential resource for families,
Turner noted that many families are intimidated from participating. Many parents are worried about the potential results and don't want their child labeled. Turner noted that screenings determine that the majority of children are determined to be on track, and that the process of screening is an excellent way for parents to learn what milestones they should be looking for and what to expect, and not expect, from their little one.
Kayleen is now in speech therapy bi-weekly through live video chat, FaceTime and both mom and daughter couldn't be happier.
"It's Kayleen's favorite time," Shank said. "She really enjoys it."
Prior to the speech therapy, Kayleen's inability to communicate led to a lot of tantrums, Shank said. "I had no idea what she wanted," Shank said. Now, through therapy, Kayleen is learning new words and both Shank and Kayleen are learning to communicate through sign language.
Kayleen just turned age 2 in June, and while her speech is still behind, she is making progress with her ability to communicate with her family.
"I understand what she wants," Shank said.
And for that, she's grateful.
"I don't know how well I'd be able to communicate with [Kayleen] if we hadn't done it," Shank said.