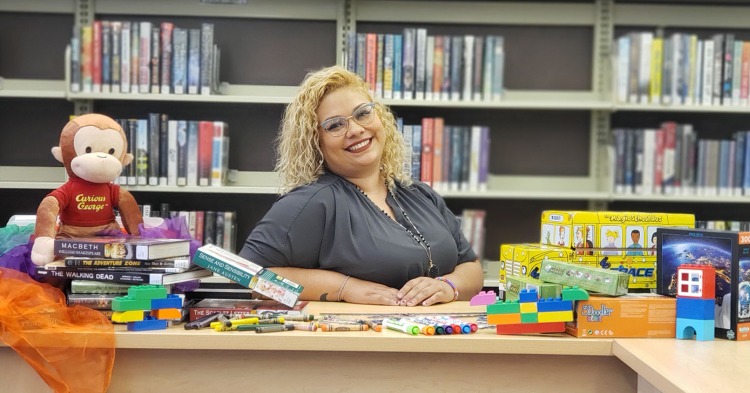 Dani Duran has been selected as the 2021 First Things First Pinal Champion for Young Children.
The award is given to local champions who actively volunteer their time to raise public awareness of the importance of early childhood development and health. Champions spend a significant amount of time volunteering with FTF and building public awareness about the importance of early childhood issues.
Duran is a library assistant at the Coolidge Public Library, where she runs children and adolescent programming. Duran's dedication is evident in the creativity, enthusiasm and love she brings to her role at the Coolidge Public Library, where she runs a variety of programs, including Story Time, Tween Titans and is now in charge of teen programming as well. Additionally, Duran serves as the face of the Coolidge library at outreach events where she leads community members in engaging activities that help them connect to their library and learn how it can serve them. She has also partnered with FTF to share early childhood information in the library newsletter.
Since the pandemic, Duran increased programming to meet the needs of families, balancing both safety and the importance of community engagement through online programming. For example, for the past two years, she has helped planned the virtual Week of the Young Child, an annual event that celebrates early childhood and the its providers.
In addition, Duran collaborated with FTF to host Chicka Chicka Zoom Zoom, a multi-library online event where families pick-up free resource bags with activities and information to use during the library's online storytime.
We recently caught up with Duran.
Question: Why do you feel early childhood development and health is important?
Answer: While supporting Coolidge Head Start and Minibears Preschool through the library, Duran saw the positive impact that early childhood programs offered. She understands that not all children have the access to benefit from them. She modeled her storytime program to fill in some of those gaps for children. "[I saw] how much teachers really invested in supporting these children, and I really felt I needed to invest myself as well."
Question: How do you suggest other people in your community get involved?
Answer: Reach out to their [local] First Things First. Reach out to them and let them know, "We are interested in providing more information, we are interested in getting more resources for our families."