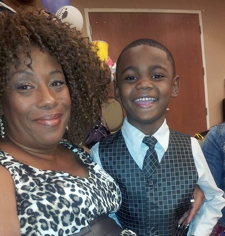 Carla Jones of Maricopa suspected that something was wrong when her grandson was just 2 years old. Little Kémon showed signs of learning delays, and mumbled when he spoke and she and her husband Charles couldn't understand him.
"His words sounded so garbled and he was quiet and stayed to himself most of the time," Jones said.
As Kémon's primary caregiver, Jones would sometimes take the boy to work, where she was a hairstylist. One day, Jones told a client about Kémon and her concerns. Her client—a parent provider specialist with the Family, Friend & Neighbors program of United Way, a caregiver education program funded by First Things First—told Jones how the program helps grandparents who are raising their grandchildren.
"This program has been such a blessing to my family," Jones said. "It's helped us understand how the brain functions and how to curb behavioral problems; it's taught us how to teach our grandchildren to be happier, be stimulated, and have fun learning."
A hearing evaluation showed that chronic ear infections had impacted Kémon's hearing to the point that he had only 30 percent of his hearing.
"At age three, they ended up doing surgery and corrected the problem, but he was already developmentally behind in speech, language, and even socially," Jones said.
The program helped Jones purchase phonics phones for her to work with the boy at home.
"He lit up when he would talk into them and hear his voice repeated," Jones said. "Not only did he begin to learn at home quickly, we saw a great personality change in him too. He was excited to learn."
Kémon went on to high achievement at Maricopa Elementary School, where he ended the year ranked 6 out of 286 kindergarteners.
"Now he's in first grade and he loves math and reading and is sounding words out everywhere we go. Charles and I can't even 'spell' words to one another in front of him as Kémon understands the word immediately," Jones said as she laughed.