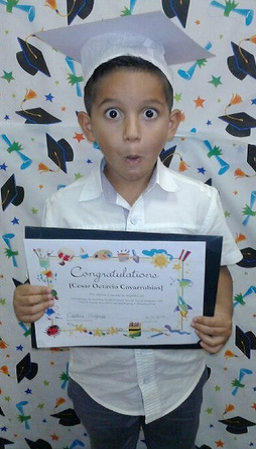 Maria Covarrubias of Avondale remembers watching her 3-year-old son Cesar, sitting by the door all day waiting for his older sister to return from preschool.
"Can you imagine a 3-year-old sitting still all day?" Covarrubias asked. "But that is what he would do because he missed her so much."
Cesar is close with his three sisters, and when his older sister Bella began preschool, Cesar suffered from separation anxiety.
"Then after a few weeks, I started noticing he really seemed to lack focus," she said. "He had the attention span of a goldfish, and I knew he would not be ready for preschool next fall."
After sharing her concerns with the family resource center staff in Avondale, they referred her to the Building Bright Futures Special Needs program. First Things First funds the free and voluntary program that matches parent educators to families. Parents learn positive parenting techniques, get connected with evaluations for early detection of developmental delays in their children and get training to increase their child's school readiness.
Cesar loves playing with toy cars and one of the first steps was to approach his learning using toy cars. Covarrubias turned his bedroom into a showroom for letters and numbers on every surface.
"I wanted to expose him to as much reading as possible because I knew that was important," she said.
Cesar soon began to move quickly through each milestone, and he did so well at home that the family decided to skip preschool. On his first day of kindergarten, Cesar walked to his class, turned to her and said, "See you, mom."
"I couldn't believe it," Covarrubias said. "The boy who wouldn't let go of me for weeks was so independent now."
Cesar recently completed the first quarter of kindergarten and his school progress report shows he is performing as a high-achiever.
"I always knew he was smart but to see how far he has come, he is just amazing," Covarrubias said. "I can't wait to see what he becomes when he grows up."