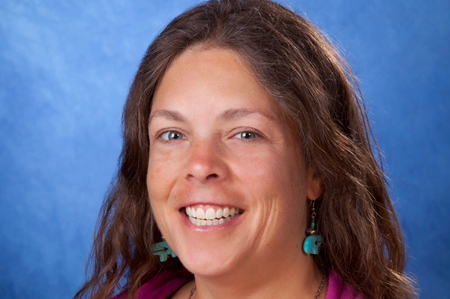 Rene Hobbs-RedDay has been selected as the 2017 Coconino Region First Things First Champion for Young Children. ​
The award is given to local champions who actively volunteer their time to raise public awareness of the importance of early childhood development and health. Champions spend a significant amount of time volunteering with FTF and building public awareness about the importance of early childhood issues.
Rene engaged in awareness-raising efforts such as:
Organizing the Early Childhood Fair to raise awareness with parents about the importance of the early years.
Sharing FTF educational reinforcement items like children's books, playbook guides, Family Resource Guides with parents in her programs.
Encouraging colleagues to attend an Early Childhood Every Day training to learn about ways to share FTF resources and partnered with FTF in spreading awareness about the importance of early childhood.
Discussing early learning, literacy and the Week of the Young Child event, the Flagstaff Early Childhood Fair on a live radio interview.
Engaging early childhood partners and along with the FTF Community Outreach Coordinator via the Early Childhood committee of Coconino Coalition for Children and Youth (CCC&Y) to plan an early childhood awareness campaign focused on reaching non-early childhood audiences.
Partnering with FTF to integrate early learning messages, facts, and child care research into a pitch to get the CCC&Y Board to support and adopt the Raising of America: Early Childhood and the Future of Our Nation Project.
Sharing her knowledge and expertise as an early childhood voice on several boards and leadership committees including, the Early Success Committee, the Kindergarten Transition Team, a board member of the Coconino Coalition for Children and Youth, and the Chair and  facilitator of the School Readiness Collaborative Action Network (CAN) of LAUNCH Flagstaff.
We recently caught up with Hobbs-RedDay, who works as the Program Supervisor at the Coconino County Transformative Learning Center.
---
​
Question: Why do you feel early childhood development and health is so important?
Answer: Children are our future! Research over the last several decades has proven again and again the significant influence early brain development has on life outcomes. Healthy, nurturing environments foster children's (people's) optimal health and unique potential. The world has many ails. Children are my hope! I want healthier, happy, engaged people in my community and our world.
Q: What caused you to get involved in efforts to increase public awareness in early childhood issues?
A: My interest in early childhood is both personal and professional. I have felt and seen the impact of adverse childhood experiences. So, I'm a believer! I know it matters how we treat our children. How we teach them to feel about themselves. How we teach them to interact with others. Whether we support them in setting healthy boundaries. Whether we help them understand the world and their place in it. Whether we are, what we expect them to be. We all are responsible for our children, the next generation. My passion comes from a desire to ensure all parents, relatives, community members, and elected officials know early childhood matters.
Q: Why do you feel building awareness in early childhood and developmental health is so important for families and communities?
A:  I want all parents, birth, adoptive and foster, from teens to grandparents, to know honestly it's the smallest acts that grow positive relationships and stimulate the brain. Heathy relationships combined with nurturing physical health are the key ingredients to a happy, healthy, intelligent and self-assured child. If more parents recognized and acted on this knowledge, they likely would do what they could to: take time to slow down, enjoy their child, take care of themselves, prioritize family fun, explore and learn together. We are molding little people. Let's give them our best. In the end, healthier homes rear not only healthy children, but stronger communities.
Q: How have you seen awareness for the early years change in your community?
A: For years, local advocates have worked together to develop strategies to raise awareness of the significance of early childhood. Coconino Coalition for Children and Youth's Early Success committee hosts an annual childhood fair which has become a favorite community event for families with young children. The Coconino County Superintendent of Schools Office began investing in Transformative Learning Center, an early childhood initiative, in 2013. Flagstaff Community-Wide Kindergarten Transition Team has developed a tool to support all preschools and kindergartens in creating site based plans, ensuring thoughtful transitions from home or preschool to kindergarten, for both children and their families. LAUNCH Flagstaff is our community's most recent education collaborative engaging diverse stakeholders in a common mission, exemplifying world class education. Collectively, we support the work of First Things First and its funded Coconino strategies: Quality First, scholarships, Parents as Teachers, Growing Up Great and Smart Smiles.
Q: How do you suggest other people in your community get involved?
A: Explore your community involvement options by talking with others or searching social media. Choose a program or organization to contact and jump in! Collaborative work among programs is strengthening! No matter what door you enter from, I know we'll meet up to be a big voice for little kids. We're all in this together!