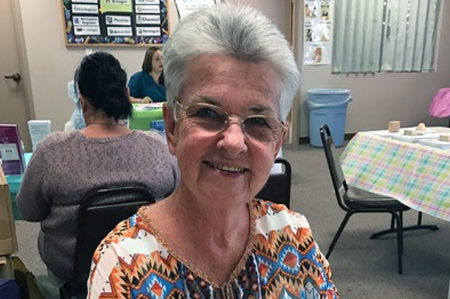 Paulette LeBlanc has been selected as the 2017 Graham/Greenlee First Things First Champion for Young Children.
The award is given to local champions who actively volunteer their time to raise public awareness of the importance of early childhood development and health. Champions spend a significant amount of time volunteering with FTF and building public awareness about the importance of early childhood issues.
LeBlanc engaged in awareness-raising efforts such as:
Helping host an information table at the annual Community Baby Shower funded through FTF.
Co-hosting a Basic Training with the Community Outreach Coordinator.
Securing a Cenpatico grant to purchase supplies for the FTF-funded infant-toddler-preschool library program.
Securing a United Way grant to support scholarships for working families for the region's Quality First early childhood programs.
Securing an Arizona Community Foundation grant to support three Kindergarten Summer Camps to ensure children will enter school ready to succeed.
Organizing the early childhood professional development strand at the Southeast Arizona Teachers' Academy (SEATA).
Facilitating the Graham-Greenlee Early Childhood Coalition.
Organizing the early childhood sessions at the annual Sci Tech Festival.
We recently caught up with LeBlanc, an educational consultant and president of EDSUPPORT, LLC.
Question: Why do you feel early childhood development and health is so important?
Answer: I am a firm believer that whatever happens before the age of five follows a child through a lifetime. With that as my guiding force, I challenge myself to create situations which are positive and supportive of early childhood development and health. Building a strong foundation in the early years sets the stage for future success!
Q: What caused you to get involved in efforts to increase public awareness in early childhood issues?
A: I was hired as the Community Outreach Coordinator for the FTF Graham/Greenlee Region in 2006. During my 10 years of service to FTF I learned a great deal about the importance of early care and education. I learned it was as important to support the family, as it was the child, and that FTF could not be the sole source of support in that initiative. I noticed that unfunded programs played a big role in supporting the work of FTF and decided to be a part of that. I vowed to expand community involvement in early care and education through grants and community programs; creating partnerships to support early childhood efforts.
Q: Why do you feel building awareness in early childhood and developmental health is so important for families and communities?
A: It really does take a village to raise the child. By building public awareness of the importance of early care and education, we can all join forces for the common good. We cannot assume that everyone "gets it." Building awareness comes from a conscious plan which includes all corners of the community. But, raising awareness is one thing. We need to encourage action and involvement. That is the piece that excites me.
Q: How have you seen awareness for the early years change in your community?
A: Oh, yes! I have seen testimony to increased awareness. In the past five years, for instance, I have watched Freeport McMoRan, Inc. build a state-of-the-art preschool and a childcare center for the Morenci schools. What a wonderful way to support their young families! And I have seen two major benefactors, The United Way of the Gila Valley and the Arizona Community Foundation of the Gila Valley, place early childhood as a priority in their grant giving process. The ever-popular annual Sci Tech Festival now offers preschool activities for our young children. And, the Southeast Arizona Teachers' Academy now boasts an early childhood professional development strand for its preschool and childcare providers. NONE of this would have happened without increased awareness over the past 10 years of the importance of these early years. What was once a "hard sell" is now an "accepted fact." The early years are important!
Q: How do you suggest other people in your community get involved?
A: There are so many levels of involvement for the community. First of all, new parents should become consumers. They should take advantage of the Parent Kit distributed by First Things First. There is so much valuable information in it. They should do their homework when choosing a quality child care and preschool experience for their child. Visit programs. Talk to other participating families. Seek out other early childhood opportunities in the community by starting with the local library. The chances are they will find some wonderful programs there.   In other words, take advantage of the early childhood resources available in their region. On the next level, consider volunteering in an early childhood program. They could always use an extra pair of hands. Get involved with the regional FTF community outreach coordinator by helping to spread the word of the importance of early childhood. Whether you are a parent, a business owner, a non-profit activist, there is something you can do from that standpoint to support early care and education. Your outreach coordinator has many ideas for making you a supporter or champion of our young children.