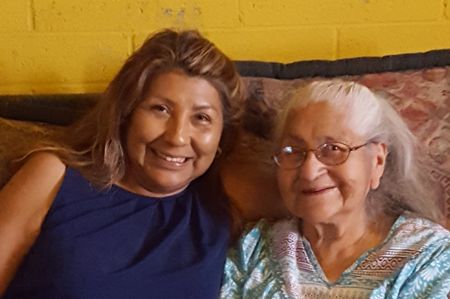 Donna Juan has been selected as the 2017 Tohono O'odham Nation First Things First Champion for Young Children.
The award is given to local champions who actively volunteer their time to raise public awareness of the importance of early childhood development and health. Champions spend a significant amount of time volunteering with FTF and building public awareness about the importance of early childhood issues.
Juan engaged in awareness-raising efforts such as:
Conducting fit WIC classes for children 3 to 5 years old, as well as with parents/guardians. This class encourages healthy eating as well as physical activity.
Distributing board books for the children to take home and talks with parents/caregivers about how early literacy can impact a child's performance when they enter school. The Nation has one of the highest rates of diabetes in the country, and Juan believes that educating parents how to instill healthy behaviors in their children is crucial to changing these rates.
Attending local health fairs as a member of the Securing Tohono O'odham Project (STOP) coalition, which she joined 18 years ago to help bring awareness to the community about the importance of child seat safety. Juan also conducts public safety announcement about child seat safety on the local radio station.
Distributing Read On Arizona material and board books at her church's nursery. Juan is a member the First Papago Baptist Church, teaches Sunday school and volunteers in the nursery for birth to 5 year old children. There she demonstrates the importance of talking, reading and singing to children during this vital development stage.
We recently caught up with Juan, who is an employee of the Tohono O'odham Nation WIC Program.
Question: Why do you feel early childhood development and health is so important?
Answer: Learning begins at a young age. Children learn from their parents and caretakers. Parents and caretakers are the role models and if they have the information to help their child learn and practice healthy habits the children will be healthy adults.
Q: What caused you to get involved in efforts to increase public awareness in early childhood issues?
A: There are many young families who didn't have parents of their own to teach them things that would be beneficial for them to implement with their own children. Giving parents helpful information is important.
Q: Why do you feel building awareness in early childhood and developmental health is so important for families and communities?
A: If parents have the information they need, it will not only be helpful to them as a family, but in the end it will help the entire community.
Q: How have you seen awareness for the early years change in your community?
A: Parents seem more willing to accept information. The younger generation uses technology more to access information.
Q: How do you suggest other people in your community get involved?
A: By sharing their successes.