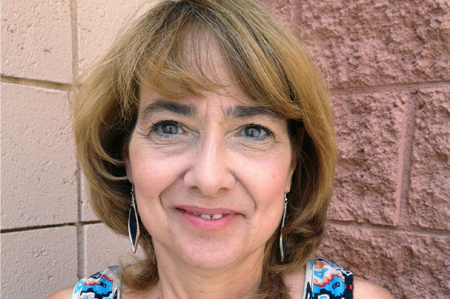 Lisa Alvarez has been selected as the 2017 Phoenix North First Things First Champion for Young Children.
The award is given to local champions who actively volunteer their time to raise public awareness of the importance of early childhood development and health. Champions spend a significant amount of time volunteering with FTF and building public awareness about the importance of early childhood issues.
Alvarez engaged in awareness-raising efforts such as:
Attending training on early childhood messaging.
Hosting activities at school events where she provided educational tools to reinforce the information about early childhood that she shared with parents and caregivers.
Encouraging them to take action in support of early childhood.
We recently caught up with Lisa, who works as a 21st Century Grant Coordinator in the Paradise Valley Unified School District.
Question: Why do you feel early childhood development and health is so important?
Answer: Learning is constantly on-going and is occurring all the time. Engaging our youngest learners and fostering their love and thirst for knowledge. Preparing children for reading readiness. Childhood brains are sponges absorbing knowledge is essential. 2015-2016 I established the Learn Lab at the Paradise Valley Family Resource Center. I worked with 3-4 year olds whose parents were taking English classes.
Q: What caused you to get involved in efforts to increase public awareness in early childhood issues?
A: As an Out of School Time (OST) Coordinator, I understand the importance of family engagement in order for children to learn good healthy eating habits and to meet those early childhood developmental milestones.
Q: Why do you feel building awareness in early childhood and developmental health is so important for families and communities?
A: In my position as an OST Coordinator, I have direct contact with students, parents, families and community. I am aware that the population at the Paradise Valley Unified School District school I work for has a high population of have to work parents with multi-age children and dealing with multiple issues every day. Getting pertinent information in the hands of my families is vital for the future generation of children to be successful.
Q: How have you seen awareness for the early years change in your community?
A: Early childhood development and health are the stepping stones for healthy and thriving children in our community. FTF is key to future generations of successful students. Early childhood development exposes students to their first time learning and provides support to parents and families.
Q: How do you suggest other people in your community get involved?
A: Offer your knowledge about something you are passionate about and offer your time as a volunteer at a local preschool or kindergarten class.