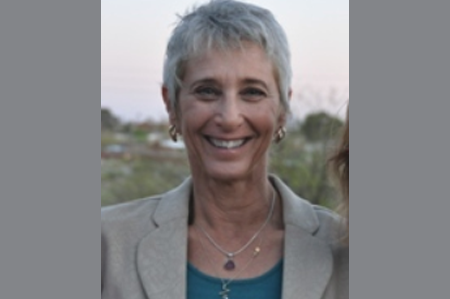 Penelope Jacks has been selected as the 2018 Pima North First Things First Champion for Young Children.
The award is given to local champions who actively volunteer their time to raise public awareness of the importance of early childhood development and health. Champions spend a significant amount of time volunteering with FTF and building public awareness about the importance of early childhood issues.
Jacks engaged in awareness-raising efforts such as:
Presenting to a wide range of audiences including civic organizations, business groups and local organizations, where she shared the importance of the early years coupled with data around the positive impact that access to high quality preschool has on the economy, and on children's health and education outcomes. She educated thousands of members in our community, including our elected officials and city leaders, about brain development and health during the first five years and about the work being done by FTF and other early childhood education partners to ensure that every child has the chance they deserve to start school ready for success.
Writing letters to the editor about early childhood. The community conversation around Tucson's Strong Start initiative led to multiple articles being published in the papers about the importance of high quality early education.
Participating in community forums about Strong Start Tucson as well as trainings for volunteers about how to talk about the importance of the early years as they circulated petitions, posted on social media and encouraged friends, family and colleagues to support the opportunity for all young children in Tucson to have access to high quality preschool.
We recently caught up with Jacks, who is retired and currently working with community stakeholders and leaders to discuss the next steps in creating policy to increase access to high quality preschool in Pima County.
Question: Why do you feel early childhood development and health is so important?
Answer: Research shows that the high quality birth to age five programs, especially for disadvantaged children, can return a 13 percent per year return on investment. Children who attend high quality preschool are three times more likely to attend college. They are also much less likely to participate in criminal activity: at age 40 they were 46 percent less likely to have been incarcerated and had a 33 percent lower rate of arrest for violent crime.
Question: How do you suggest other people in your community get involved?
Answer: Talk to your friends and neighbors and write letters to the editor and to local and state elected officials about the value of high quality preschool for the future of children, families and our community. Then vote only for candidates who actively support providing access to programs that every family can afford. Remind them that education starts long before kindergarten, and that kids who come to school ready to learn strengthen a robust K-12 system.