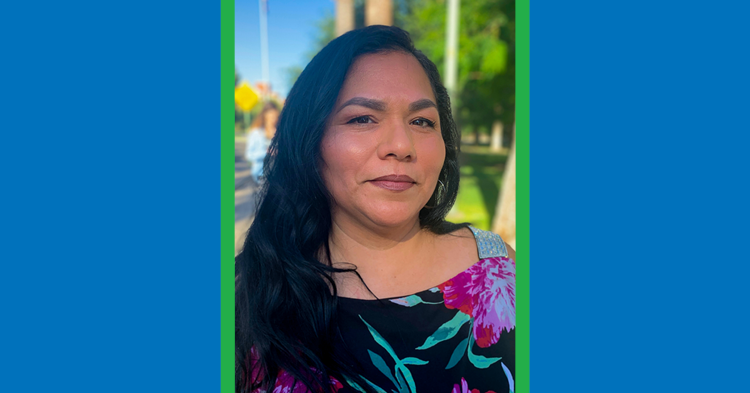 Olga Guerrero has been selected as the 2019 First Things First Pima South Region Champion for Young Children.
The award is given to local champions who actively volunteer their time to raise public awareness of the importance of early childhood development and health. Champions spend a significant amount of time volunteering with FTF and building public awareness about the importance of early childhood issues.
Guerrero, who is a site supervisor at Santa Clara Head Start in Tucson, began sharing the importance of the early years with the parents and caregivers she meets at her school. Her work rapidly grew as she expanded her efforts to her K-12 network, helping to set up training for the teachers and staff at nearby Head Start centers.
This year, Guerrero attended Early Childhood Legislative Day at the Arizona State Capitol where she shared with legislators her story about the importance of the early years. She was so empowered by the experience that she set up early childhood trainings for the staff at her own Santa Clara Head Start campus and extended the opportunity to Head Start staff from any location. She hopes to continue to help grow more early childhood supporters within her network by helping them learn to share their story and inspiring them to speak up about early childhood.
We recently caught up with Guerrero
Question: Why do you feel early childhood development and health is important?
Answer: Being a parent and gradually working on getting promoted through Head Start has taught me the importance of early child development and health. I believe it is important to teach and nurture children for them to use what they have learned when they grow up. It is important to equip a child with the appropriate knowledge, skills and resilience factors that can help them to navigate milestones as they develop toward adolescence and adulthood. I believe health and development fall hand-in-hand because a child that is healthy is a child who is ready to learn.
Question: How do you suggest other people in your community get involved?
Answer: I am on my sixth year as a site supervisor at Santa Clara Head Start and I believe that inviting the community to your center or any organization gives an opportunity for connection and involvement. For the past two years, I have been part of the Head Start Advisory Committee where I am able to experience the backend of what the organization is all about. I meet with over 20 different organizations that come together at least once a month to share all the resources they offer. Through this experience, I have learned that many people in the community get involved by invitation, social media, being part of a committee and events. Finally, through collaborations, there is an opportunity for new relationships and resources that families have access to.