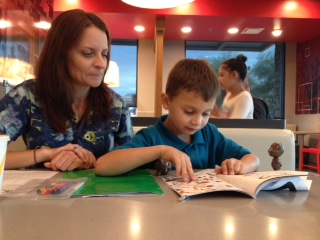 Anita Meek had a decision to make.
Her son Levi was turning five in September, but he would miss the cut-off day for kindergarten by ten days. She weighed enrolling him anyway or holding him back a year. Meek feared that her son would be one of the youngest in his kindergarten class and would struggle to keep up every year. She decided to enroll him in preschool instead.
At the time, Meek had an aunt who worked for the Altar Valley School District in Tucson.
"She told me about the Robles Preschool Program and gave me some information about it and the paperwork to fill out," Meek said. "At first I was hesitant because I do not live within the Altar Valley district. I am a single parent, who at the time was working two jobs, so I knew preschool was going to be an important part of getting my son ready for kindergarten. So, I decided to go ahead and enroll Levi."
Robles Elementary Preschool participates in Quality First, a signature program of First Things First, which partners with child care and preschool providers to improve the quality of early learning across Arizona. Quality First funds quality improvements that research proves help children thrive, such as training for teachers to expand their skills and to help create learning environments that nurture the emotional, social and academic development of every child.
"His preschool teacher was amazing," Meek said. "She had great open communication with the parents and was easy to get a hold of if you had a question, and his classroom had a warm feeling, was fun, stimulating and educational."
The preschool had a playground dedicated to its young students and implemented family-style eating inside their classrooms.
"These were the experiences that made for a smooth transition into kindergarten and helped prepare Levi for what kids go through as they are thrown into situations like a playground full of children of all ages and eating in a packed lunch room," Meek said.
As a preschooler, Levi also used the school library, computer lab and nurse's office. Preschoolers participated in events like the school's holiday program, science night, and Halloween carnival. Science night was a personal favorite of Levi's.
"I was amazed at some of the knowledge he would come home with," Meek said. "One time, we were at home, having some ice cream before bedtime and Levi asked me 'Mom, do you think my ice cream is a solid, liquid, or gas?' I could not believe he was learning so much in preschool!"
Today Levis is excelling in the first grade. He is on the Principal's Honor Roll and loves math and reading.
"Preschool was a big part of his learning and success," Meek said.