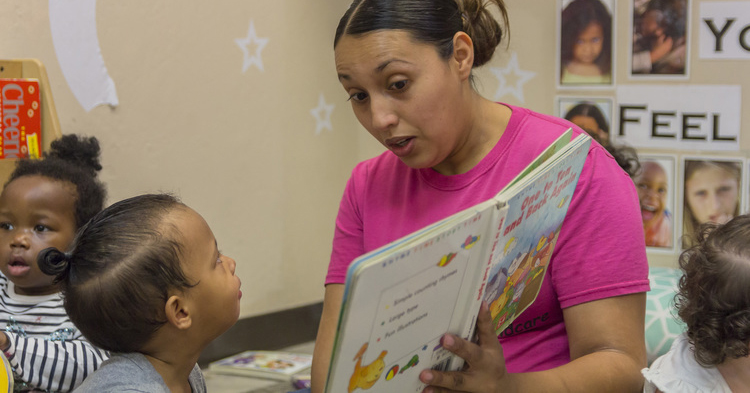 The Pima County One-Stop Career Center is known for providing comprehensive workforce development programs. But a few years ago, career center officials began to notice that parents with young children were having difficulty completing a program that would help them secure better paying jobs for one main reason: lack of dependable, affordable child care.
"They discovered that reliable child care for the parents in the program was a major barrier to graduation and, ultimately, to them accessing the job market," said First Things First Pima North Regional Council Chair Marcia Klipsch.
Realizing that this barrier hit so many parents, Pima County, along with Pima Community College, turned to First Things First as the expert in early childhood to try and find support for these families in need. The result was the Family Engagement Network, a coalition designed to bridge the gap in access to affordable quality child care for children while parents participate in programs to improve their access to better-quality jobs.
The Family Engagement Network recently received a $70,000 national grant from Boston Medical Center's Vital Village Network supported by the Robert Wood Johnson Foundation to increase support for the coalition's work. Through this funding, the FTF Pima North and Pima South regions, Pima Community College's Health Profession Opportunity Grant Program and Pima County One Stop's Employment and Training Program, will be able to advance their efforts.
Strengthening working families
Barriers to finding quality child care often affect a family's ability to maintain employment. In Pima County, 29 percent of children birth to age 5 live in poverty. The need becomes more apparent when you realize the high cost of child care. In 2014, the average cost of full-time infant care ranged from $4,822 to $17,062 per year, which is between 24 percent and 63 percent of the median income for a single-mother household.
"On a regular basis, we hear stories from families struggling to find care for their children – often not even considering factors of quality," said Leslie Totten, statewide director of FTF's Quality First program. "They are in a situation where finding the most convenient placement is priority, so they can get back to work or school as quickly as possible."
Through the coalition, the college provides parents with the Career Pathway Program education, the career center provides parents with workforce development resources and the FTF regional councils are funding Quality First scholarships to help more low-income families afford quality child care.
This is part of FTF's work to help strengthen working families and improve young children's education. In fact, $1 out of every $2 spent by FTF goes to improving the quality of early learning settings and children's access to those programs.
Overcoming barriers
Over the next 18 months, the Family Engagement Network will receive guidance from Boston Medical Center's Networks of Opportunity for Child Wellbeing (NOW) Learning Community, which are designed to build leadership development for community residents, increase civic engagement, and rapidly scale and spread innovations to improve community wellbeing.
The funds will help FTF, the college and the career center reduce barriers and make it easier for families to access the child care scholarships to enroll their child in a high-quality early education center, which should make it easier for the parent to continue job training classes.
"A positive impact will be felt at all levels for the families," Klipsch said. "The babies, toddlers and preschoolers will be receiving a high-quality education experience to prepare them for kindergarten. There will be decreased family stress knowing that the child is being cared for in a safe and quality environment and parents come out with new skills that will lead to a job with a livable wage."