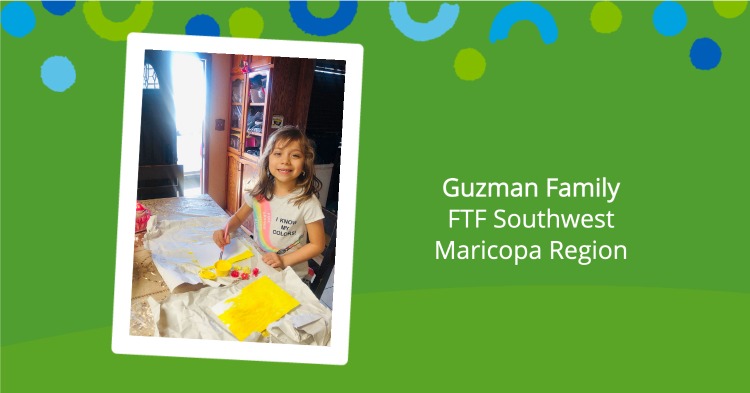 The Gila Bend Family Resource Center in Gila Bend is a happy place for Dalila Guzman's young daughter, Kiara. 
"Anything that has to do with the center she loves," Guzman said. "She knows that she's going to learn something and maybe come home with something."
As a mother of three, Guzman knew children go through fast, dramatic development in the early years—and she wanted to support her daughter, Kiara's growth. Guzman found classes and fun resources at the Gila Bend Family Resource Center, making it a special place for her and her daughter to visit. 
Early in Kiara's life, Guzman enrolled in the free family resource center classes available for parents of babies, toddlers and preschoolers. 
The First Things First Southwest Maricopa Regional Council funds the family resource center to help support parents of kids birth to age 5 as their child's first teacher. 
Located in Gila Bend, this one-stop center provides parenting classes on topics such as early literacy, the importance of play to children's learning and how to deal with challenging behaviors. It also provides many other resources. 
In the parenting classes, Guzman appreciated learning how to educate her daughter at home. 
"We are their first teachers, that is something I've learned," she said. "You take care of your baby and you meet their physical needs. We don't stop to think about the social and emotional learning part. This is something that the classes at the resource center can help us with. There is always more that you can do at home. We can be a big part of their education." 
After taking the classes, Guzman felt more confident and prepared to help her daughter get ready for kindergarten. 
"I also have an 18-year-old and a 12-year-old," she said. "Sometimes I struggled in helping them with their learning, but not with Kiara. I know where I'm going, and I know how to teach her."
Guzman also got her mother and mother-in-law involved at the center in the family, friend and neighbor classes offered to caregivers of young children. 
"They were perfectly on-board about receiving information that would help them be better caregivers to benefit Kiara," she said. 
Kiara got to take a class, too. She loved attending an 8-week nutrition class on Wednesdays at the center with her mother. 
"They taught us about healthy foods and how to eat healthier," Guzman said. "We would play Bingo at the beginning of class, and she was always excited for the game." 
And before the COVID-19 pandemic hit, the entire family would attend the frequent health fairs that the center would host. During the pandemic, the center put together take-home packets for families. 
"Every month they would choose a theme and put together an activity for kids to do at home with their family and she would bring it home in a Ziploc bag," Guzman said. "They were always literacy-based."
When Kiara was 3 years old, Guzman signed up for a home visitation program that she found out about at the center. The parent educator would visit Guzman and Kiara in their home every two weeks. 
"She really helped me understand about her development," Dalia Guzman said.
"Martha was such a natural teacher. I loved to hear her speak because anything she would tell Kiara, she was teaching me how to teach her. It was awesome."
When it was time for Kiara to start kindergarten, Guzman knew she would be ready. Kiara, now 6, is succeeding in school. 
"One of the first things they had her do was write her name," Guzman said. "That was really easy for her, because she already knew how to do that. Kiara benefited from everything they had to offer at the resource center."