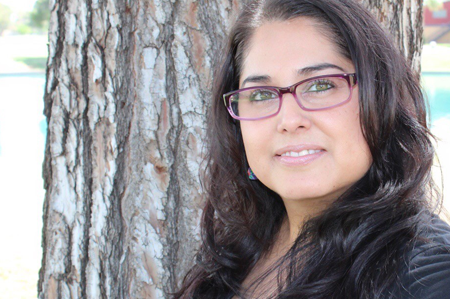 Marissa Calderon has been selected as the 2018 Southeast Maricopa First Things First Champion for Young Children.
The award is given to local champions who actively volunteer their time to raise public awareness of the importance of early childhood development and health. Champions spend a significant amount of time volunteering with FTF and building public awareness about the importance of early childhood issues.
Calderon engaged in awareness-raising efforts such as:
Using different online platforms, such as social media, blogging and podcasts to help early childhood professionals in hard to reach areas of the Southeast Maricopa Region find out about trainings and various professional development strategies.
Interviewing early childhood service providers, including FTF staff and grantees, for her Early Childhood Journeys podcast in efforts to bring resources and information to the general public.
Leveraging her relationships with Valley businesses, the technology community and startup businesses to help them understand their role in the early childhood field, that relates to business owners.
Continuing her longtime membership and volunteer activity with the Valley of the Sun Association for the Education of Young Children and National Association for the Education of Young Children.
Serving on the Maricopa County Head Start Zero-Five Policy Council as a community representative and policy council chairperson.
We recently caught up Calderon, who is a bilingual early childhood consultant at the Alesi Group.
Question: Why do you feel early childhood development and health is so important?
Answer: I feel that early childhood development and health is important because it is a catalyst for supporting all other fields of human development in our society. The foundations created during this part of a child's development can set them up for stress or success later in life. It benefits our present and future communities when children (birth through third grade) can experience a positive early childhood socially, academically, health-wise and with their mental well-being. Studies have shown that the long-term effects of a positive early childhood and good health can lead to adults who are successful and contribute positively to society. There's plenty of data and evidence derived from working with children and families that supports the importance of good health habits and indicates that a positive early learning experience for children benefits both the young and the old.
Question: How do you suggest other people in your community get involved?
Answer: At a minimum, people can advocate and cheer on the work that they witness to support children and families. Speak up, highlight it and tell others about the importance of this work. Ours is a profession that often gets dismissed, where we're seen but not heard, as long as the work is being done. Having these conversations outside of our early childhood community is a critical component in supporting those of us that are working with educators, children and their families. Get involved by advocating for early childhood within your community through conversations, regardless if those people even have children. More involvement could include volunteering for your local early childhood program, or applying for a local FTF Regional Council. If there's a desire to take it to the next level, connect with your local state representative to ensure that they maintain approved funding for early childhood programs. There's options for involvement available to fit anyone's comfort level. The point is to continue to bring awareness and keep our field in the conversation, and to let everyone know that it is just as important as any other service.