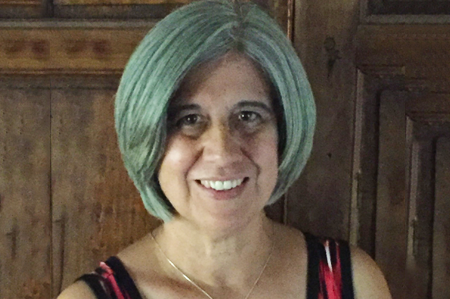 Laura Monarque has been selected as the 2018 Santa Cruz First Things First Champion for Young Children.
The award is given to local champions who actively volunteer their time to raise public awareness of the importance of early childhood development and health. Champions spend a significant amount of time volunteering with FTF and building public awareness about the importance of early childhood issues.
Monarque engaged in awareness-raising efforts such as:
encouraging home child care providers to participate in the First Things First Celebrates the Young Child community event. This event, open to all families with children birth to age 5 in the region, provides the opportunity for children to engage in various activities which fall under specific developmental domains. There were more than 10 additional home and center child care providers participating in the event as a result of her recruitment efforts.
actively supporting early literacy by reading to children at child care centers and homes on her free time. She has been known to show up with her guitar and one of her daughters to play and sing songs to young children.
coordinating with child care providers to take the children on field trips to a local senior living facility and have the kids sing for the elderly residents.
We recently caught up with Monarque, who is a child care health consultant with the University of Arizona Cooperative Extension Santa Cruz
Question: Why do you feel early childhood development and health is so important?
Answer: Child development and health are important because a young child's emotional, social and physical development will directly affect and impact his/her adulthood. Nourishing children with positive experiences will make them into well-rounded individuals. Every child deserves to be given the best tools to achieve a positive adulthood. Please allow me to quote John Denver's song, "Rhymes and Reasons."
It is here we must begin
To seek the wisdom of the children
And the graceful way of flowers in the wind
For the children and the flowers
Are my sisters and my brothers
Their laughter and their loveliness
Could clear a cloudy day
Like the music of the mountains
And the colors of the rainbow
They're a promise of the future
And a blessing for today
Question: How do you suggest other people in your community get involved?
Answer: Individuals should search out what they are passionate about and volunteer their time.