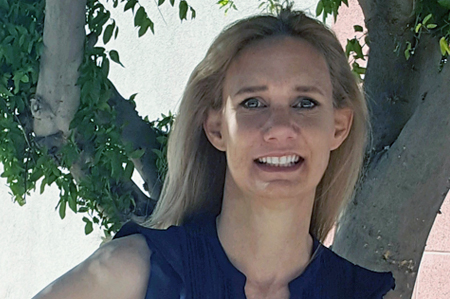 Jennifer Argyros has been selected as the 2017 Santa Cruz First Things First Champion for Young Children.
The award is given to local champions who actively volunteer their time to raise public awareness of the importance of early childhood development and health. Champions spend a significant amount of time volunteering with FTF and building public awareness about the importance of early childhood issues.
Argyros engaged in awareness-raising efforts such as:
Talking with community groups about the importance of early childhood
Participating in FTF day of the Young Child since inception.
Growing the Family Resource Center program for seven years.
We recently caught up with Argyros, who is the Director of the Family Resource Center Program in Rio Rico.
Question: Why do you feel early childhood development and health is so important?
Answer: Early childhood development and health is a game changer when it comes to closing the achievement gap. This issue is everyone's issue. It is nonpartisan and affects all of us. Caring parents can, themselves, change the outcomes for children in our community. Giving parents key information about their child's development can not only help that child have a more positive educational experience but also make our community stronger.
Q: What caused you to get involved in efforts to increase public awareness in early childhood issues?
A: Finding out that many of the community beliefs about early childhood development were myths prompted me to want to talk with every parent. For instance, we know children do not learn language by watching television, yet many parents in Santa Cruz County still believe this. Knowing that every child has endless potential inspires me every day. Once parents realize that 90 percent of their child's brain is developed before they get to kindergarten, they get involved and work to provide their child with rich experiences.
Q: Why do you feel building awareness in early childhood and developmental health is so important for families and communities?
A: I see early childhood development as an investment. Investment in the early years saves communities approximately 13 percent per year per child in social service costs and decreased productivity, according to Nobel laureate economist James Heckman. Children who complete classes at the family resource centers are twice as likely to hit benchmark on their early literacy skills assessments in kindergarten. When parents see the impact of being ready for school on their child's chances of graduating high school or possibly going on to college or getting a solid job – they get hooked on finding ways to be better parents. 
Q: How have you seen awareness for the early years change in your community?
A: In our FRCs, we have seen our parents change their beliefs about how to parent. They change the way they interact with their child and help spread positive messages about early childhood education. The FRC staff has done a terrific job recruiting parents for our program. They are working everyday with parents and children modeling positive guidance. Over the past seven years of our program, we have seen a change in the parents and how they interact with their children. When we observe parents working with their children in our classes we see them letting the child lead the play and encouraging their children to work independently. As we collect feedback from parents, we feel proud and validated in our work. Parents share their beliefs about their children before they took a class and how they have changed after taking the class. Often it is something as simple as learning to label objects in the environment to promote language, regardless of how simple the skill parents are continuing to learn at the FRC. Seeing parents supporting new parents at the FRC also validates our work and helps us grow.
Q: How do you suggest other people in your community get involved?
A: Simply by dispelling the myth that education starts in kindergarten. Reminding all parents that the birth to 5 years are the most important time in the development of a child's brain and parents and caregivers can make a difference in whether their child is ready for school. Get involved by supporting pre-school programs, talk to parents about getting support with the difficult job of parenting.