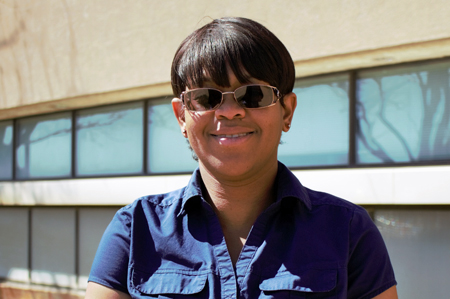 Brandy Bridgewater has been selected as the 2017 Navajo Nation First Things First Champion for Young Children.
The award is given to local champions who actively volunteer their time to raise public awareness of the importance of early childhood development and health. Champions spend a significant amount of time volunteering with FTF and building public awareness about the importance of early childhood issues.
Brandy engaged in awareness-raising efforts such as:
Providing information about First Things First and the importance of reading in the early years to families.
Providing community members with early childhood messaging and educational reinforcement items.
Presenting Early Childhood Every Day Training to new-hires within her service unit.
Engaging families in oral health education and providing toddler toothbrush kits throughout the community.
Referring community programs and organizations to First Things First, grantees and resources.
We recently caught up with Bridgewater who works in Public Health Nursing at Tsaile Health Center.
Question: Why do you feel early childhood development and health is so important?
Answer: Early childhood development and health is very important because during these years, a foundation is laid for what is to come in the future.
Q: What caused you to get involved in efforts to increase public awareness in early childhood issues?
Answer: I have always loved children and being a mother myself, I have seen firsthand the importance and impact that quality early childhood programs can have on future health and academic outcomes for children. Also, as a public health nurse, I am exposed to many families in many different circumstances. Those families and children who tap into early childhood programs tend to progress better in school and in life. So, I and my colleagues make every attempt to connect families with local resources pertaining to growth, development and health.
Q: Why do you feel building awareness in early childhood and developmental health is so important for families and communities?
Answer: Children are future leaders within the home and throughout the community. If good, quality investments are made in providing resources to community members, there will be increased access toward health promotion and lifestyle behaviors. In doing so, the community as a whole will conform and shift toward a culture and environment that promotes self-efficacy and less reliance on people and systems that do not foster positive growth and development.
Q: How have you seen awareness for the early years change in your community?
Answer: Many parents are eager to enroll their children in early childhood programs within the community. Children and their families are enrolled in programs such as the Navajo Nation Head Start program, Growing in Beauty, BabyFace and Family Spirit. All of these programs provide culturally relevant and sensitive health, growth and developmental education and interact with families individually in the home or school setting. Parents are very aware of what resources are available for children and families. Parents are also the experts in terms of their children, so meeting the needs of families during the early years of childrearing can make a significant impact on the decision-making process and selection of programs and activities that meet the needs of their children. Being an active listener and having constant interaction with children and families has taught me a great deal and increased my awareness and the need for resources and services in my community.
Q: How do you suggest other people in your community get involved?
Answer: Volunteering in the local community through schools and early childhood education programs is a great start. Also, partnering with existing organizations or agencies that focus on families and children would be helpful in figuring out what some of the existing needs are in the community. Lastly, I would suggest connecting and partnering with local leaders and child health professionals because they may have access to funding and additional resources beneficial to your specific interest.