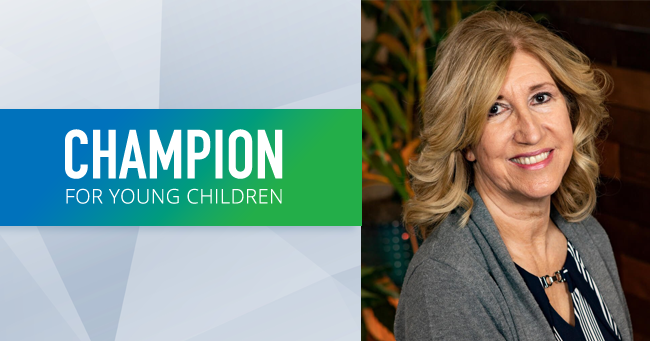 Darla Holmes has been selected as the 2022 First Things First East Maricopa Region Champion for Young Children.
The award is given to local champions who actively volunteer their time to raise public awareness of the importance of early childhood development and health.
Holmes, who is the director of children's ministries at FBCScottsdale, organized community events to engage families of young children.  At the events, she shared birth to age 5 materials such as children's books and FTF program information, like family guides, in an effort to support parents as their child's first teacher and reinforce the importance of the early years.
Holmes has been instrumental in making early childhood resources available (in English and Spanish) on-site at the adjacent Chaneni House, which provides community members with clothing and basic essentials. She invited FTF to provide training for staff, enabling them to share bilingual materials for parents and caregivers of young children. Holmes and her staff have worked to help more families have access to FTF resources and programs, as well as, an increased awareness of the importance of strong families and positive early childhood experiences.
We recently caught up with Holmes.
QUESTION: Why did you choose to show your support for young children and families?
ANSWER: I will always choose to support young children and families as they are our future.  The more positive the impact, the better.  It is the ripple effect in a still pond. A loving, supportive, nurturing support system builds the future that reaps those rewards. Having raised four children of my own, while being very involved in children's activities and programs, has given me time to see beautiful results in children from the youngest on through adult life.   
QUESTION: What is motivating you to support babies, toddlers and preschoolers directly or indirectly?
ANSWER: The motivation behind my passion is science. The brain development is rapid and using those formative years to impact a child sets up a life of opportunity well beyond measure.  Reading to a child grows the love of reading and feeds into every area of academics.  Introducing art and music opens their world to appreciation of our gifts.  Giving play opportunities allows imagination and creativity to soar!  It takes so little to set up such environments. The more we can make a difference in a child's formative years, helps multiply the payoff for a successful future.