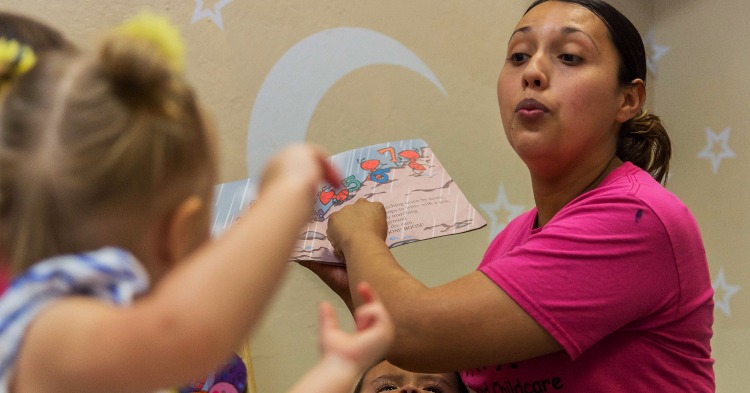 The Pinal Early Childhood Coalition, which is led by First Things First and made of dozens of early childhood partners across Pinal County, has a mission that all the county's children are prepared for kindergarten.
The coalition members have put together a set of kindergarten readiness flyers with simple and fun ways families can help get their children ready for kindergarten. The flyers, which are divided into age groups from birth to age 5, are set to be distributed in the next few weeks throughout the county's 5,374 square miles.
And if the child isn't old enough to start school? Well, It's never too early to start the prep.
"Our thoughts are to reach places with the information that is not typical to find family support," said Jessica Morehead, a community engagement specialist with Child Care Resource and Referral and a coalition member. "Places that you don't think, 'this is a good place to find something to help my children here.'"
For example, Morehead approached local grocery stores to see if there was a place to distribute the family flyers. Others approached food banks and doctors' offices.
"Everyone in the workgroup has an idea of how to get this information out there," said FTF Pinal Regional Director Katrina Devinny. "These will be flooding Pinal County in almost any way you can think of."
Before the COVID-19 pandemic, kindergarten readiness was on the coalition's list of priorities, but the overall shift to more young children staying at home during the pandemic prompted a new approach, Devinny said.
"There's a whole group of children that might not have had a quality early learning environment in the last two years because they were pulled out of child care due to the pandemic," Devinny said. "We know that those children are going to show up to kindergarten with very few skills, especially the social-emotional skills of interacting with other children."
Morehead said she has firsthand experience, since she had a young child when the COVID-19 pandemic started.
"I didn't put my baby in child care because there was no option for him to be in child care when the pandemic began," Morehead said. "I kept him home. You could see when he went back to school he had a very hard time. He cried for weeks and weeks. Not only are children who are entering kindergarten affected by their emotions, but they are becoming very sheltered and not wanting to leave their parents."
She points to anecdotal data of young children struggling with separation anxiety, having a hard time interacting with other children and having smaller vocabularies compared to the same-age children before the pandemic.
"People are now starting to recognize that early childhood education is critical for children," Morehead said. "We are seeing how families are being affected by not having child care and going into kindergarten and not being prepared."
The flyers will help parents address different areas of development, such as literacy, gross and fine motor and social and emotional skills.
David Sherwood is a program supervisor with the Smart Support program and a coalition member. He leads a team that works with preschools to provide early childhood mental health consultation, which is designed to help adults identify and address the mental health struggles or challenges of individual children that they work with in child care, preschool or other group settings.
He said he hears from the teachers that he works with that they are getting more children who don't have the social and emotional skills needed to be ready for kindergarten.
"The flyers will help the preschools provide some free and easily digestible activities and materials to the parents," Sherwood said.
Each flyer provides parents with an activity that they can do at home with materials they have on hand. For example, one activity might ask parents to make a bean bag out of an old sock and some beans to toss back and forth with their child to develop gross motor skills. There are also links for free printable games to help children learn to play with others.
"The idea is to help parents see that they are their child's first teacher and encourage them," Morehead said.
The kindergarten readiness project is one of many that the Pinal Early Childhood Coalition has worked on over the course of a decade. The coalition was formed in 2011 at the FTF Pinal Regional Council's direction. Devinny said she estimates over the past decade that at least 40 different agencies have been part of the coalition.
"We have many system partners that might not have anything to do with early childhood directly, but they come to the table," Devinny said. "We have behavioral health entities, birthing hospitals, school districts. It helps because new people get to learn what is available in Pinal County."
Many members comment that Devinny's leadership has helped drive the group's success in areas such as creating a resource guide of services available throughout the county and an annual slew of activities during Week of the Young Child.
"Katrina has done an excellent job at facilitating these long-term relationships to keep us on track," Sherwood said. "We've built these relationships with a core group of people. We are accustomed to how we work and we have many people who tend to step up and take on these tasks without prompting."
It comes down to wanting what's best for Pinal families.
"Everyone in the coalition wants to support families in the best way they can," Morehead said. "Our goals align, we communicate and we collaborate."