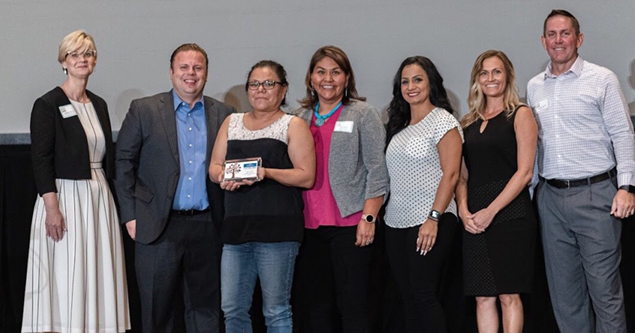 Community volunteers from the First Things First (FTF) Colorado River Indian Tribes Region were honored Sunday at the organization's statewide early childhood conference.
The FTF Colorado River Indian Tribes Regional Partnership Council, made up of local volunteers from the region, received the Eddie Basha Regional Partnership Council Excellence Award for Leadership and Service.
The annual award recognizes one of 28 regional councils from across Arizona for inspiring its local community to come together and promote positive and lasting change on behalf of young children, thereby enriching all of Arizona.
Brandon Basha, the eldest grandson in the Basha family, presented the award to the community volunteers at the FTF 2019 Early Childhood Summit opening recognition celebration, held at the Phoenix Convention Center, Aug. 25.
He read from the region's nomination which highlighted the council's significant role in implementing a Summer Transition to Kindergarten program for children who will attend kindergarten in the Parker Unified School District.
The principal at Le Pera Elementary School, which is in the Parker school district, approached the council in October 2017 with concerns that the majority of children arriving to kindergarten were not prepared to start school.
After a rigorous review of local data and resources, the regional council implemented the Summer Transition to Kindergarten strategy for children who had not had the benefit of attending preschool. In addition to several one-week sessions over the year, the council has asked that the children be provided a weekly class over a sustained period and to provide education to parents to assist them in preparing their children for kindergarten.
"This approach has proven to be very successful," Basha said. "Families have made a great effort to attend each class and it has encouraged parents to learn alongside their children. One parent shared that she has seen so much progress in her child's ability to recognize letters and has noticed her daughter does a lot of imaginary play using a lot of the songs she learned from the program."
Basha noted the council's efforts to collaborate with the Parker Unified School District, Head Start, libraries and the Arizona Western College Parker Campus Early Childhood program to provide opportunities to train local educators.
The FTF Colorado River Indian Tribes Region is defined as the Arizona part of the Colorado River Reservation, including the town of Parker. The region lies entirely in La Paz County.
The award is named after iconic Arizona businessman, humanitarian and staunch advocate for public education Eddie Basha, who spent his life championing children and the communities that nurture them. Basha was one of the primary proponents of the ballot measure that created First Things First, a statewide organization that funds early education and health programs to help kids be successful once they enter kindergarten, and one of the movement's most fierce champions.
"Throughout his life, and after he passed away, my grandfather was lauded for his spirit of servant leadership and for his contributions to improving education, government and the arts," Basha said. "He believed deeply in leaving a mark, in making a difference."