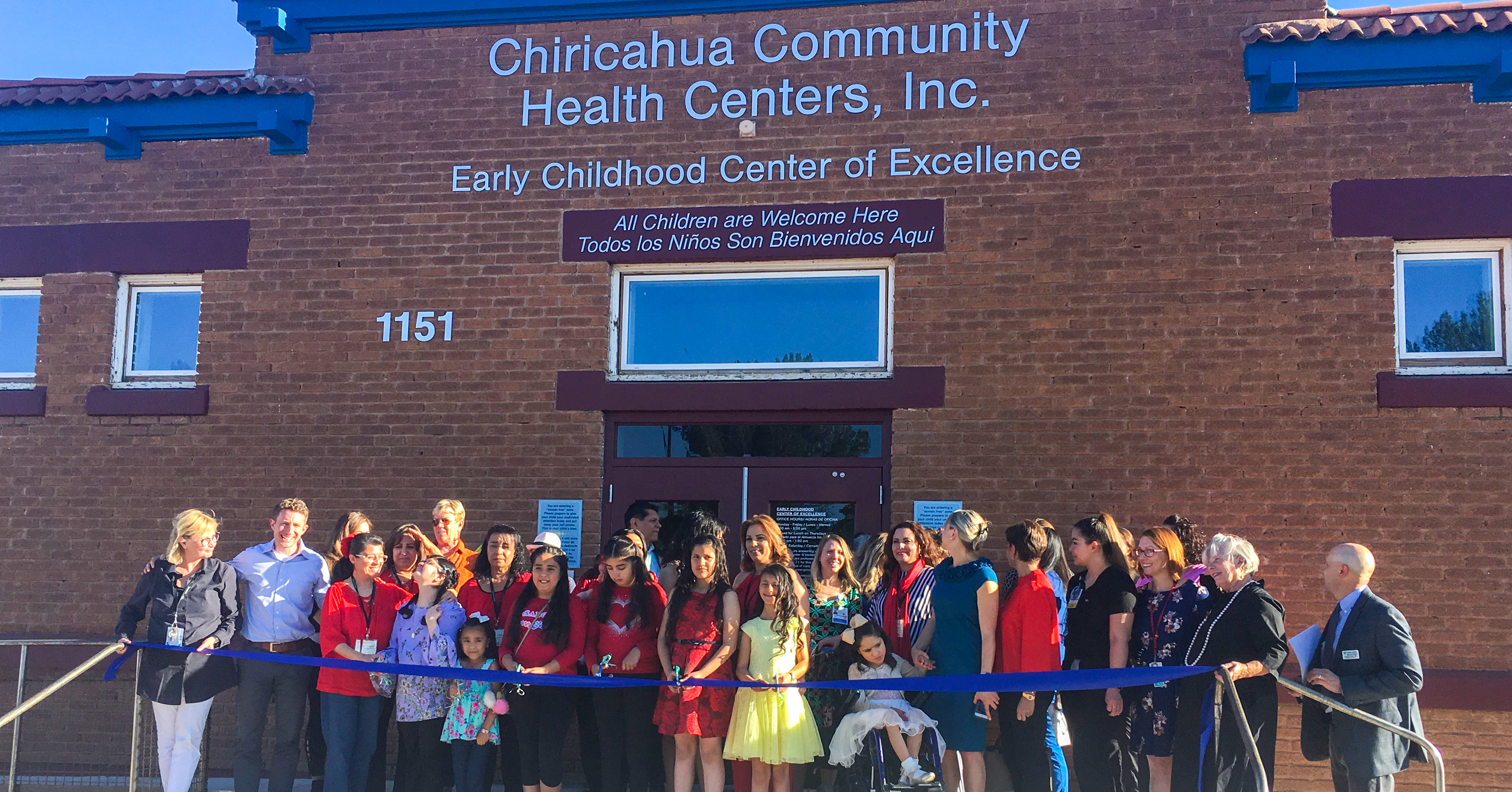 From the moment a family enters the Early Childhood Center of Excellence, located in an historic school building in Douglas, they realize there is something very different about this health center.
The focus on children is clear from the beginning with a sign at the door declaring it a "screen-free zone," where parents are encouraged to put their phone in a plastic box during their time at the clinic, to avoid the screen.
Instead, families can choose a book from the bookcases that line the walls inside, where they can read to their child or the child can read to them, or check out a toy box, filled with age-appropriate toys that their child can play with.
The First Things First state Board recently attended a tour and ribbon cutting for the opening of the Early Childhood Center of Excellence, which is a part of the Chiricahua Community Health Centers, Inc. The pediatric center focuses on children birth to age 11, especially children with special health care needs.
FTF was recognized for funding the Early Childhood Optimal Health (ECOH) program, through the FTF Cochise Region's Care Coordination Strategy. The program provides a registered nurse care manager to help families with children of special needs manage and coordinate medical visits between all specialists. The nurses are also available by cell phone to answer families' questions, such as investigating insurance denials or financial options, along with helping with the child's individualized care plans.
Dr. Darlene Melk, Chiricahua director of Community Pediatrics and Medical Director of Southern Arizona Children's Health Project, told the group that the center's programs, including ECOH, offer a different way to deliver preventive care.
"You have the time to develop a relationship with the families," said Melk, who also serves on the FTF Cochise Regional Council. "You're able to focus on the child and how to promote their healthy development."
There are parent support groups, organized around children's needs or age group, along with support to sign up for home visitation programs and dental care. Additional services offered at the center include: pediatric acute and preventative care, enrollment in programs such as Arizona Health Care Cost Containment System (AHCCCS) and KidsCare, integrated behavioral health, and dietetics. Unique features of the center continue the child-focused theme. For example, the screen–free zone declaration and the colorful, inviting waiting areas that feature well-stocked reading corners, developmental toy boxes and volunteer readers. In addition, the center offers many support groups and integrated dental care services on-site.
Chiricahua's Chief Executive Officer and Chief Medical Officer, Dr. Jonathan Melk, shared with attendees his vision when he began the pediatrics program in 2006.
"Our dream is to grow a system that never–never– gives up on any child," Melk said.