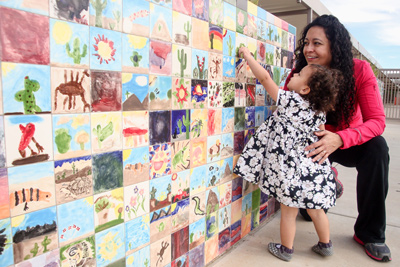 Even though she has a successful career in business and community development, Lisa Armijo of Phoenix was like many new moms –unsure she had the skills to be the best parent she could be to now 2-year-old toddler, Catalina.
"I knew about adults, but I knew nothing about kids," Lisa said. "I had no idea about the amount of learning that takes place before 5 years old."
At the Paradise Valley Family Resource Center in Northeast Phoenix, Lisa learned that 90 percent of a child's brain develops before age 5 and that early interactions with caregivers prepare children for success in kindergarten and beyond. The more she learned at the center, the more her concerns were eased about her ability to prepare her baby daughter for her educational future.
At this comprehensive center for families of kids birth to 5 years old, caregivers can attend parenting classes on topics such as early literacy, the importance of play to children's learning and how to deal with challenging behaviors.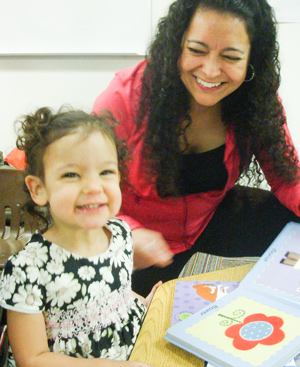 Lisa and Catalina visit the Resource Center at least twice weekly. In fact, Lisa schedules her part-time work hours around activities at the center. The first-time mom said she has seen tremendous growth in her daughter. For example, Catalina's language has exploded. Though she tends to be on the quiet side, her vocabulary spans about 200 words at home.
"She's very good at listening and following directions," Lisa said. "I have learned such a tremendous amount about helping my daughter grow socially, cognitively, behaviorally and developmentally."
Along with informative classes, the Paradise Valley Resource Center offers both mom and daughter a chance to connect with other families. Lisa said she has seen first-hand the positive difference resource centers can make for families in helping build critical skills such as self-discipline and self-esteem in their young children.
"I've seen parents actually change their less-than-ideal parenting style to a safer, more positive approach after seeing other parents and hearing other examples," she said. "I've seen and been a part of the building of community among parents, grandparents and caregivers from diverse cultures and socio-economic backgrounds all in the name of growing healthy little ones."
Lisa is grateful for the crucial impact that the Paradise Valley Resource Center has had on her family.
"The center gives me, as a mother, the opportunity to directly support and be with my daughter while she learns and grows during the most important developmental years of her life," she said. "This is an incredible gift that I do not take for granted."