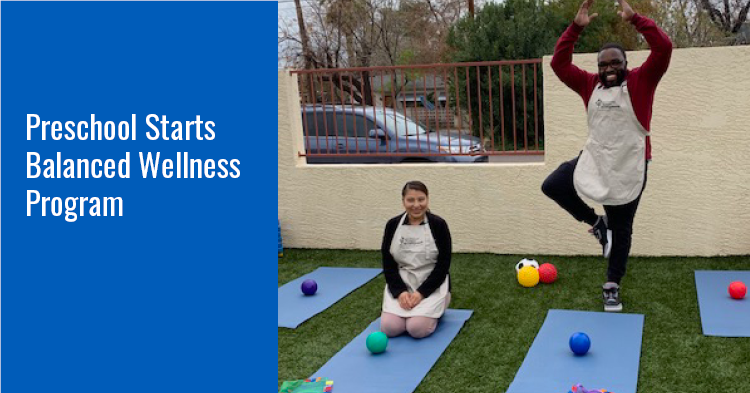 A Quality First center in Phoenix is using the 5,000-year-old technique of yoga to engage parents and preschoolers.
Preschoolers at the Southwest Head Start at Kennedy Elementary School in Phoenix learn the art of tranquility as a relaxation transition before rest time, said Jessica Varela, program manager of nutrition for Southwest Head Start.
"Yoga helps children prepare for quiet time activities such as reading a book, working on a puzzle or taking a nap," Varela said. Yoga is known to increase physical flexibility and an awareness of the body and mind. It also helps children to focus on tasks and lowers their stress.
Parents are also encouraged to try different yoga poses at home with their children and are given techniques through a wellness newsletter that the center sends home to families.
The center participates in First Things First's signature program, Quality First, which help centers make quality improvements that research proves help children thrive, such as creating learning environments that nurture the emotional, social and academic development of every child.
Increasing parent involvement and continuing healthy practices at home is an important part of being a Quality First center.
"Parents are becoming engaged in their children's learning experiences," Varela said. "We always say that the child's first teacher is the parent, and we support them by providing tools to build their parenting and advocating skills."
The wellness program started after an annual survey revealed parents wanted to learn more about how to support their children's nutrition. Parents also expressed difficulty in accessing recreation centers for exercise. Yoga provided an exercise that parents could do at home with their children. Other support was given to each parent through an annual health home visit.
"During this visit, a family support specialist talks to parents about the importance of health and nutrition," Varela said. "We provide a New Beginnings Wellness Newsletter that includes community resources such as food banks, programs related to nutrition and health. The family support specialist also provides resources to families as needed throughout the year."
Since providing the newsletter and yoga instruction, parents tell Varela that they are trying new recipes and getting children to eat vegetables. Parents are also incorporating yoga in the home to help calm their children and to reduce their own stress.
"The intent of the integrated, cross-generation health and wellness program is to build lifelong, healthy habits for the child and the child's family," said Varela.