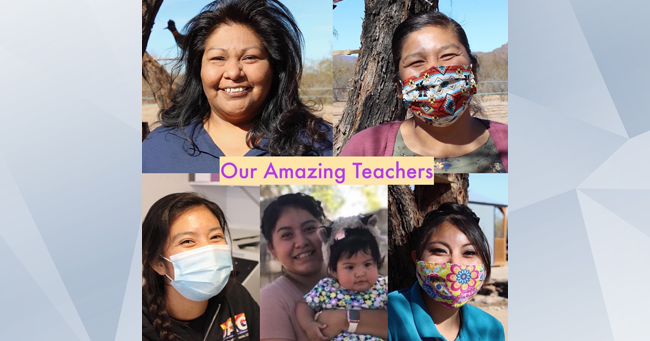 The Native American Advancement Foundation (NAAF) has been selected as the 2022 First Things First Tohono O'odham Nation Region Champion for Young Children.
The award is given to local champions who actively volunteer their time to raise public awareness of the importance of early childhood development and health. 
NAAF has taken steps to begin an emersion program in the Gu Vo District for children birth to age 5, by pairing language and culture with early literacy and education. In addition, the foundation has worked with FTF to share age-appropriate books, while incorporating Tohono O'odham culture and language during their classes with young children and their families. And foundation staff shares early childhood information at community events focused on literacy, like the annual Tucson Festival of Books.
We recently caught up with NAAF CEO Jordan Evans.
QUESTION: Why did you choose to show your support for young children and families? 
ANSWER: NAAF's tagline is "honoring our past by building brighter futures," and we believe that this starts at home with our children. Providing support to our children and families honors our ancestors and community members by empowering their legacy.  
QUESTION: Your actions make early childhood a priority. What inspires you to do that work? 
ANSWER: Our children are our brightest light. We want them to carry their joy of learning and community stewardship into adulthood, to love back the community that supported them.  
QUESTION: Why do you think it's important for people in your field/position in the community be a champion of young children and families? 
ANSWER: Community is the cornerstone of who we are; we are responsible for one another.  That responsibility looks different for each person, but we are all capable of contributions. Community is how we have maintained our resilience; it's how we ensure our resilience hundreds of years from now.  
QUESTION: What is motivating you to support babies, toddlers and preschoolers directly or indirectly? 
ANSWER: Who needs advocacy more than those who cannot advocate for themselves? Our community members have a longstanding history of prioritizing babies and toddlers. We live in an isolated area of the Sonoran Desert and have longed for access to early childhood education. To provide the youngest and most vulnerable among us the opportunity for health, wellness, and a foundation for academic success, we are determined to prioritize programming around these needs.
QUESTION:  How do you convince people not connected to early childhood that they should be a voice for Arizona's young children?
ANSWER: If you think change is needed in the world today, cultivate those seeds of change in the next generation. Support them, however your circumstances allow. That could be time, finances, or simply educating others. We reap what we sow.