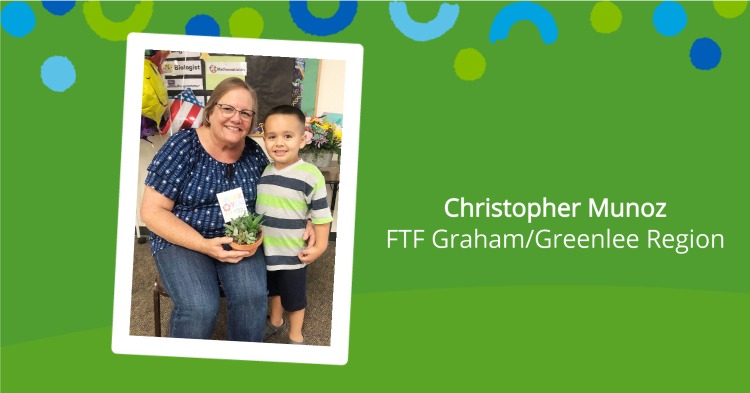 "Goodbye friends…It's time to say goodbye." 
These are a few of the words to Christopher Munoz's favorite song from Story Time at the Safford City-Graham County Library. The words are fitting as he said a final goodbye to his favorite online celebrity, Ms. Retha. 
Retha Russell was the library's early literacy coordinator and retired in July 2021. Over the years Russell impacted hundreds of children in Graham County. 
She holds a special place in Christopher's heart. The friendship between Russell and Christopher began when he was only 3 years old. He first attended the library's storytime with his cousin. He was hooked. Since his sister is 15 years older, playmates are hard to come by and storytime quickly became a highlight of his week. 
The First Things First Graham/Greenlee Regional Partnership Council funds early literacy programs, like Story Time at the Library, to help families foster language development and a love of reading in their babies, toddlers and preschoolers. 
Christopher lives in the small Arizona community of Solomon and is fortunate to have his grandma, Delfina Espinoza, living next door. She takes care of him during the day while Christopher's mother teaches math at the local elementary school. 
As an educator, his mother knows the importance of quality early childhood experiences, so she put together a preschool curriculum for Espinoza to do at home with Christopher. The only thing missing was the social aspect. That's where storytime came in. The weekly library event helped Christopher learn new words and colors, but also how to interact with peers, learn to share, take turns and raise his hand to ask a question.
The COVID-19 pandemic shut down in-person storytime, but it didn't take long for Russell and her library team to find a creative solution. They used an online platform so storytime could continue. 
Every Thursday morning at 11, Christopher and his grandma would gather around the computer in the living room with their egg shakers and scarves to participate in the virtual storytime.  
"Even though we weren't there in person, I would type his name in the chat, and he would get so excited when Ms. Retha would say 'Well, hello, Christopher! We're glad you're here today!' It helped us feel connected and a part of something familiar," Espinoza said. "It gave us something to look forward to." 
In July 2021, Christopher returned to the library for the first time in over a year. His eyes sparkled as he looked around to the different play and book stations set up. A bit shy at first, he looked awestruck when he saw Ms. Retha. Then she saw him. She said, "Christopher!" as she put her arms out and he walked into a big hug. He was holding a small succulent as a retirement gift, but was still able to wrap his arms around her neck. 
Russell started her retirement that day, and Christopher started kindergarten in August. Thanks to the skills he has gained through in-person and virtual storytime, his family is confident that he is prepared to continue a lifetime of learning.