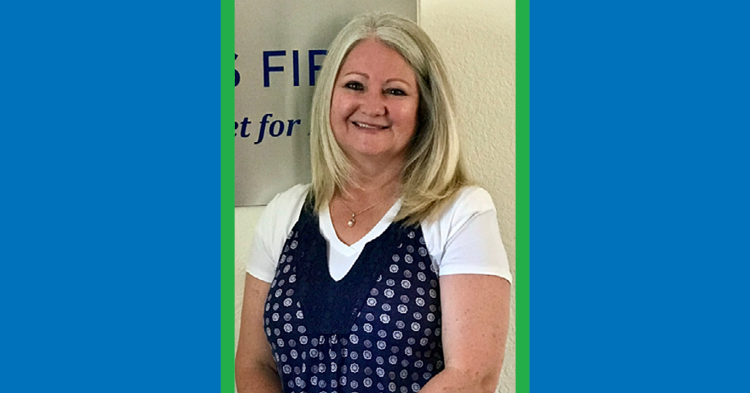 Michelle Pursley has been selected as the 2019 First Things First Graham/Greenlee Region Champion for Young Children.
The award is given to local champions who actively volunteer their time to raise public awareness of the importance of early childhood development and health. Champions spend a significant amount of time volunteering with FTF and building public awareness about the importance of early childhood issues.
Pursley, who is retired from Child and Family Resources, a non-profit organization serving children, youth and families, volunteered her time at the Greenlee County Health and Science Festival to talk to parents and caregivers about the importance of quality, daily interactions with young children. She also distributed community resource guides to help families find beneficial programs and resources.
Pursley also met with community librarians from Clifton and Morenci to help them better understand the work of First Things First and the impact of providing quality early childhood experiences to young children. Each librarian received materials such as community resource guides and bookmarks highlighting the importance of early childhood to share with patrons.
We recently caught up with Pursley.
Question: Why do you feel early childhood development and health is important?
Answer:  Studies show that children are like sponges; the more they are exposed to, the more successful they will become.  The more parents talk and sing to, engage and problem solve with and provide opportunities for learning through play and daily routines the more their "sponges" will learn and grow. It is essential that parents realize their important role in being their children's first and most important teachers. With that realization, parents will hopefully see that talking and interacting is more successful than screen time.  I love the quote, "I did what I knew and when I knew better, I did better."
Question: How do you suggest other people in your community get involved?
Answer: Everyone can make a difference!  I think every parent, grandparent and neighbor would like to make a difference in their family, neighborhood or community.  There are opportunities everywhere to make a difference.  I look for ways to praise people who are talking to their children while shopping or out at restaurants, grandparents who are at the parks or libraries with their grandchildren and interacting with them, fathers actively involved in their child's life.   When adults realize the impact they are making on a child, their child, they tend to rise up to the occasion.  We have an amazing library program in our community. We have parks and splash pads and we have many community events that are great ways to help children and families explore things in our community.   I think if we are all aware of the opportunities and resources in our own communities we are more willing to utilize them and spread the word. Find ways to serve in your community, get involved and be aware of the community you live in.  I believe it takes a village to raise a child and it is up to us to make a difference.