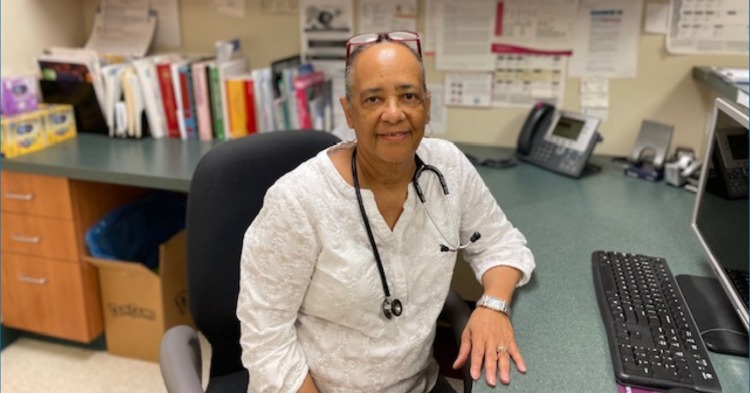 Dr. Lindell Collins has been selected as the 2021 First Things First Phoenix North Champion for Young Children.
The award is given to local champions who actively volunteer their time to raise public awareness of the importance of early childhood development and health. Champions spend a significant amount of time volunteering with FTF and building public awareness about the importance of early childhood issues.
Dr. Lindell Collins, a pediatrician at McAuley Pediatrics PC, has been partnering with FTF for more than two years. A typical well-child visit always starts with a conversation about the child's health and development. To engage parents, Dr. Collins prescribes parents to read with their child daily to enhance brain development and family closeness. The prescription is paired with an FTF-provided children's book and bookmark, which provides parents with additional early literacy information. The FTF materials have influenced deeper conversations about the importance of early childhood between her and the parents visiting her office, Dr. Collins said. 
 We recently caught up with Dr. Collins.
Question: Why do you feel early childhood development and health are important?
Answer: I believe a healthy early childhood includes a balance between a child's physical, cognitive and social-emotional abilities. When these work together, a child can focus in school, stay healthy and build their social-emotional skills encouraging interactions with others, while managing their emotions and having the ability to communicate their feelings and needs.
Question: How do you suggest other people in your community get involved?
Answer: I would suggest leaders in our community lead by example. Join a group that you enjoy that is making positive changes in the community, and share your story about how you have helped children and families. This may motivate others to do the same. As the popular proverb says, "It takes a village to raise a child." We have to involve the family and extended family, faith-based leaders, healthcare providers, teachers, friends, and neighbors to get the community involved. We all have a job to do to bring awareness and positive change.