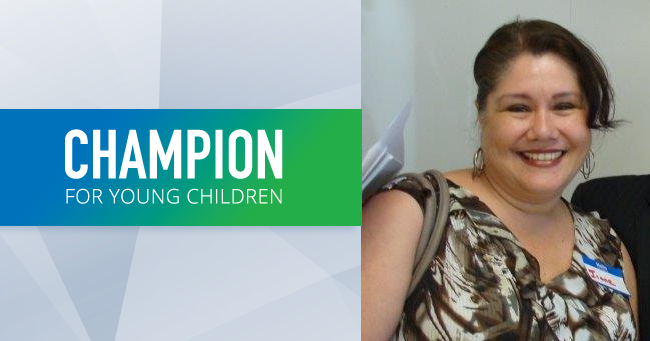 Irene Garza has been selected as the 2022 First Things First Yuma Champion for Young Children.
The award is given to local champions who actively volunteer their time to raise public awareness of the importance of early childhood development and health.
Garza is the regional coordinator for Reach Out and Read Arizona in Yuma County. She has been a leader and advocate for young children in the Yuma region for more than 12 years, where she actively networks to make connections and best utilize resources in her community. Garza has shared resources from the Arizona Chapter of the American Academy of Pediatrics (AzAAP) with the community. Garza started her career when her own children were young, and she had experienced success as a parent participant of the Reach Out and Read program.
Garza gives to her beloved Yuma community with heart and devotion. She tirelessly advocates for clinics and their staff, ensuring that they have all of the necessary supports needed to effectively implement the Reach Out and Read program, which distributes books through pediatric providers. She has been involved with FTF Yuma Regional Council over the years and currently serves on the Yuma County Early Childhood Collaborative Leadership team.
Garza has innovative and creative ideas to help ensure the sustainability and success of the Reach Out and Read program in the Yuma region and state. She is also skilled at building collaboration opportunities with businesses, community organizations and individual community members.
We recently caught up with Garza.
QUESTION: Why did you choose to show your support for young children and families?
ANSWER:  For the past 27 years, I have worked with and supported families with young children. I've seen the lack of services in many areas and the need for connecting families to those services. I knew that wherever life took me I would always find a way to help make those connections happen.
QUESTION: Your actions make early childhood a priority. What inspires you to do that work? 
ANSWER: My own children are my inspiration. My son was diagnosed with autism spectrum disorder when he was almost 3 years old. As a parent of a child with special needs, you learn quickly that you must advocate for your child every step of the way. By being an advocate, every child becomes your child. Inspiration starts with children from birth because every child deserves to grow up feeling safe, healthy and with every opportunity to learn.
QUESTION: Why do you think it's important for people in your field/position to be recognized in the community as a champion of young children and families?
ANSWER: It is inspiring and it allows us to share our story. Those that work in the early childhood field find a real passion in what they do. They don't do it for recognition, they do it to make a difference in children's lives and to inspire others to get involved.

QUESTION: What is motivating you to support babies, toddlers and preschoolers directly or indirectly? 
ANSWER: Learning the importance of what we do in the early years sets children on a path for success.  For example, in early literacy, from the moment we put a book in a baby's hands they are learning small motor skills by grasping that book. They learn by touch that a book can have different textures. They hear their parents talking and reading to them. They learn cognitive skills develop by hearing the words read to them. They see all the shapes and colors of the pictures in the book. Babies, toddlers and preschoolers learn all of this and more by holding and reading a BOOK.  How amazing it that?
QUESTION: How do you convince people not connected to early childhood that they should be a voice for Arizona's young children?
ANSWER: I believe in the phrase "It truly takes a village" because it truly does. We all have a part to play in our children's future. Whether it is teaching, parenting or donating time and resources. The more we give to children now, the better our future looks.