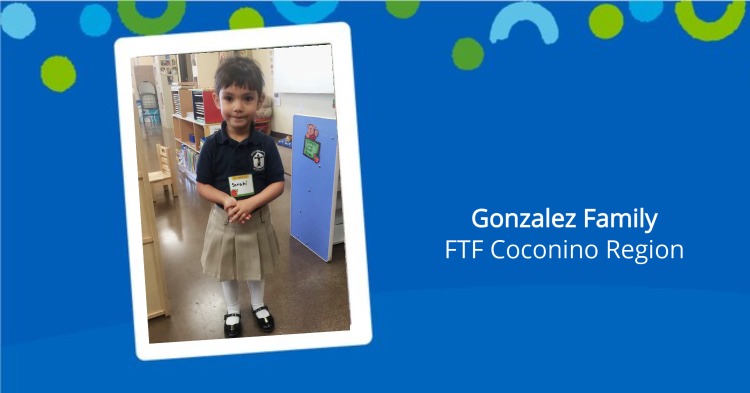 Veronica Gonzalez is a single mother of five children. She is an immigrant who came to Flagstaff to provide the best life possible for her children. Gonzalez knew one of the steps to a better life would be to enroll them in high-quality education. 
After researching pre-kindergarten programs in Flagstaff, she wanted to send her youngest, Sarahi, to San Francisco de Asis Catholic School's preschool, but knew she would struggle to afford the program.
"I looked at the tuition rates and knew that I would have to make severe sacrifices in order to send Sarahi to this amazing school," Gonzalez said. "Then, I realized that because of the Quality First program, I could apply for a scholarship. The Quality First and First Things First information was right there on the San Francisco de Asis website."
The First Things First Coconino Regional Council funds the Quality First program, which the preschool participates in. Gonzalez qualified for a Quality First scholarship, which allowed her to enroll Sarahi at the school. 
FTF's Quality First program partners with child care and preschool providers across Arizona to improve the quality of early learning. Quality First funds quality improvements that research proves help children thrive, such as training for teachers to expand their skills and to help create learning environments that nurture the emotional, social and academic development of every child. The preschool has a five-star rating, the highest rating available through the program. 
Quality First scholarships help eligible families afford quality early care and education, but availability is often limited. 
Gonzalez especially liked the supportive environment the teachers and staff provide at San Francisco de Asis. She knew her daughter needed the extra attention after having experienced several adverse childhood experiences early in life. 
"It is the reason I wanted to leave and come to Flagstaff," Gonzalez said. "I was worried that her experiences as a child would have long-lasting, negative effects on her and our family's life, but because she is in such a nurturing environment, she is doing really well, and she loves her school."
For Gonzalez, it has made all the difference. Knowing that Quality First was able to provide a scholarship meant that she was able to prioritize her care for her children in other ways, like providing them with healthy meals. 
"I hope that Sarahi and other young children who grew up under harsh conditions will always have the opportunity to have a successful life," Gonzalez said.