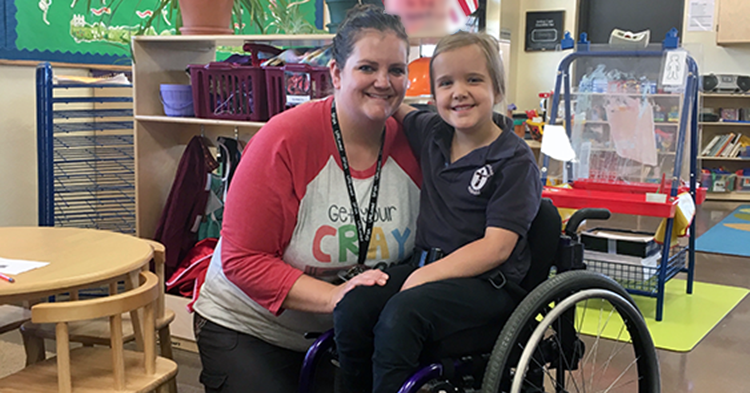 Autumn Emkeit and her husband knew they needed to find a pre-kindergarten program that could meet the educational and developmental needs of their young daughter, Grace.
After researching a variety of child care centers, San Francisco de Asis Catholic Preschool in Flagstaff was exactly what they were looking for. They liked that staff could work with Grace, who has spina bifida, a birth defect that occurs when the spine and spinal cord don't form properly.
Grace's enrollment at the preschool was made possible through a Quality First scholarship, which helps eligible families access quality early learning. At San Francisco, Grace is able to remain in the classroom with her peers, which is an important part of her learning, Emkeit said.
The preschool is part of First Things First's Quality First program, which partners with child care and preschool providers across Arizona to improve the quality of early learning. Quality First funds quality improvements that research proves help children thrive, such as training for teachers to expand their skills and to help create learning environments that nurture the emotional, social and academic development of every child.
The type of personalized attention that Grace receives is given to all the students, said Lisa Barquin, the preschool's director. "The learning is driven by individual interactions with the teacher," Barquin said. "There's a lot of one-on-one work to make sure the child gets the support they need wherever they're at."
For Grace's parents, it's made all the difference for their daughter's learning. They see their daughter learning how to problem solve on her own, which "is the building block to becoming a successful adult," Emkeit said.
"Grace is more ready than ever to begin kindergarten because of this Quality First center," she said. "This center is the full embodiment of what quality education looks like."