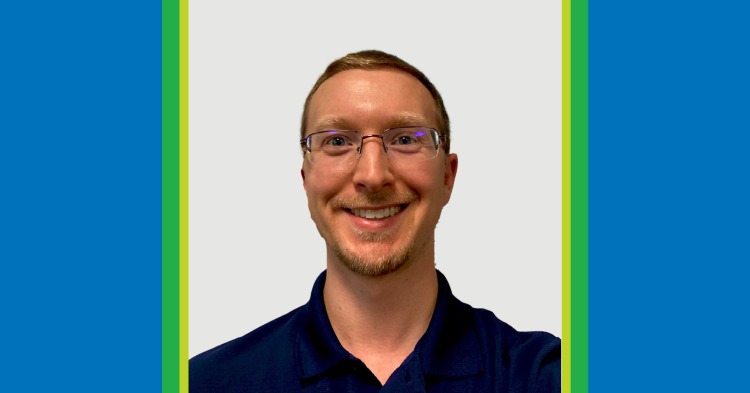 David Barko has been selected as the 2021 First Things First Yavapai Champion for Young Children.
The award is given to local champions who actively devote their time to raise public awareness of the importance of early childhood development and health. Champions spend a significant amount of time volunteering with FTF and building public awareness about the importance of early childhood issues.
Barko is the director of the Family Resource Center at Dignity Health – Yavapai Regional Medical Center (YRMC) in Prescott Valley. He has advocated for early childhood in numerous ways, including serving on multiple community collaboration groups.  He has been a critical voice in moving the prenatal care team for woman with substance abuse issues forward across many barriers.  He has allowed FTF to quote him about the importance of early childhood to use in community presentations and was a key participant in planning and presenting the April 2021 FTF virtual event, which highlighted home visitation programs.
We recently caught up with Barko.
Question: Why do you feel early childhood development and health is important?
Answer:  As FTF and other organizations work to communicate, we know from decades of research and studies that the first five years of life are the single greatest amount of brain growth and development.  It's the time when so much of a person's neurological and emotional foundations are literally being formed.  Children are, in every definition, filled with potential. 
Nelson Mandela summed it well when he said, "The true character of a society is revealed in how it treats its children."  As a society, I don't see how we could ethically not support our children as best as we can.  They represent some of our most vulnerable populations.  Our children are the ones who will be operating every aspect of our communities and country in the future, from our teachers to our physicians to policymakers.  The healthier our children are, the healthier our nation will become.
Question: How do you suggest other people in your community get involved?
Answer:  There are so many ways to help, directly and indirectly, that I would recommend to start with your passions, skills and experience.  If you want to try to affect change at a larger, macro level, you could talk to organizations about joining a committee or advisory council (like the Family Resource Center at YRMC, First Things First, Prevent Child Abuse Arizona, Arizona Children's Association, just to name a few).  If you're handy with tools, there's many schools and child care facilities who I'm sure would welcome some help putting up a sunshade or assembling/repairing equipment in their playground.  If someone wanted more individualized direction, they could call virtually any organization involved with children, talk with someone and explore the possibilities.  My final two cents of ways to get involved is to always keep learning.  Read the latest books about early child development, emotional development, different ways to parenting and interacting with children impact their growth.  Like other fields, we are constantly learning more about child development.  The more informed we are, the better we can support our children.