​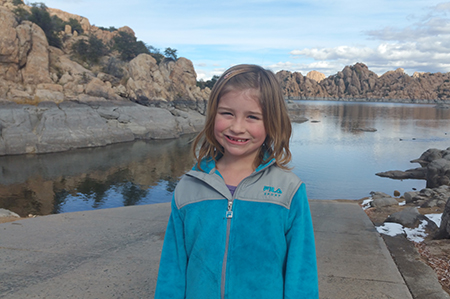 Young Kylie Riebli loves princesses, the color pink and paddling her own kayak while exploring the Verde River with her parents –she also loves to read books.
"I like stories about princesses and princesses having adventures," Kylie said.
Her mother, Miranza Riebli Sellers credits that love of reading to Kylie's time at Precious Stones Preschool in Sedona. There, Kylie participated in a book-exchange program called Raising A Reader. First Things First funds the reading program in the Yavapai region.
"Raising A Reader brought the books to us at Precious Stones," Sellers said, explaining that the kids take home a new selection of books every week. "We read a different book every night at bedtime."
The program provides a weekly assortment of five preselected books, based on the age of the child.
"Raising A Reader is about bringing books into the home and encouraging families to read together," said Carolyn Shelley, who coordinates the program at Yavapai College for the region. "At the heart of the program are the red book bags that are rotated each week for the children up to age 5 to share with their families."
Many times, the books come with story-based activities that parents can do with their kids at home.
"Families gain deep understanding of the impact reading aloud has on brain development, school readiness and parent-child bonding from birth," Shelley said.
For Kylie, the program helped her be ready for kindergarten.
"Kylie went on to have a very successful kindergarten year," Sellers said. "She was a top kindergarten student and was even selected as a student of the week. I believe her love for reading was fostered by her participation in the Raising A Reader program."