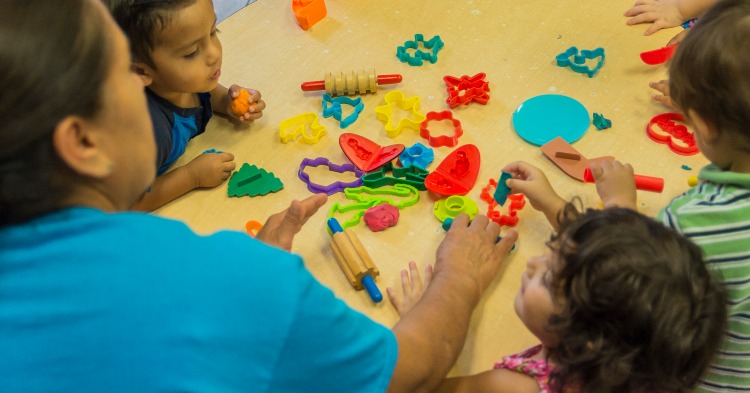 A collaboration between the First Things First Graham/Greenlee Regional Partnership Council, a community college, Arizona State University and other local organizations is striving to create a pipeline of certified early childhood educators in an area of Arizona known for being a child care desert.
The early childhood education degree program, called 2+2, was launched by FTF, Eastern Arizona College, Arizona State University's Mary Lou Fulton Teachers College, and the United Way of Graham and Greenlee Counties in the FTF Graham/Greenlee Region.
For individuals, the program will help them attain a two-year early childhood degree from the community college and provide an additional two years to complete the ASU early childhood education bachelor's degree program at potentially no cost. For the communities in eastern Arizona, it has the promise to expand the pool of certified early educators available to provide quality early education to the communities' babies, toddlers and preschoolers.
"This is a first in our region and that is big for a small community," said FTF Graham/Greenlee Regional Director Shari Elkins.
"There is a real need for quality child care here. Before the pandemic it was a need, but after, we lost a lot of workers who didn't come back. And the ones that stayed are there because they love to work with young children, not because they're getting paid what they're worth."
Also joining the collaboration is the Mount Graham Regional Medical Center in Safford, which has plans to build a child care center on its medical campus to meet the child care needs of their hospital staff. The center will also serve as the lab school for the students in the 2+2 program.
The United Way of Graham and Greenlee Counties has agreed to pay for staffing and Eastern Arizona College will provide classroom space for the early childhood education classes at the community college.
"From the United Way's perspective, we knew there was a lot of work we need to do in early childhood development. And we were looking at what we could do to support that," said Adam O'Doherty, former CEO at United Way of Graham and Greenlee Counties.
O'Doherty, who recently left Arizona for a newly formed United Way in Indiana, worked on the 2+2 project since its inception. "So when the proposal came to us, the United Way, we were looking at the finances. Can we pay for the first three or five years of expenditures to get this rolling? There is a (financial) component to build these programs. So if we can just eliminate that barrier, we can focus on the development portion of these programs," he said.
Eastern Arizona College has worked with ASU and Northern Arizona University for many years to help students work toward bachelor degrees, including elementary and secondary education, at the community college so it was natural to add early education to the list.
"EA values early childhood education and recognizes that students are going to come in with different needs and wants and educational goals," said Susan Wood, vice president for Academic and Student Affairs at Eastern Arizona.
"There are multiple entry points to further their education."
For those who complete their two-year early childhood degree and choose to continue to a bachelor's degree in early childhood education, MyPath2ASU is there to help coordinate the process. Through ASU's Mary Lou Fulton Teachers College, full-time students are eligible for the Arizona Teachers Academy tuition waiver scholarship, where they can complete their bachelor's degree tuition free, with the expectation that they will work in the region for a length of time equal to the number of years they receive funding through the grant.
"There's not any one route that's better than others," said Kurt Palmer, who is director of rural partnerships at ASU's Mary Lou Fulton Teachers College. "Our goal is to find the right people to be the right teachers in their communities and then create a seamless pathway from wherever they're at that brings them into that teaching profession."
The collaboration will work to build relationships within the community.
"The most important thing is that it's not just a bachelor's degree in early childhood and certification, but that this partnership that we're working to build and develop focuses on change within the community," Kurt Palmer said.
"We want to make sure communities in general are experiencing that opportunity for growth and change. Our goal is to actually change the way communities experience education through a partnership like this. Collectively we have a tremendous amount of resources and support."
In addition to the formal college courses, a series of 15-minute micro-courses described as modularized learning experiences will be developed. These nanocourses, will be for members of the community, including parents, caregivers and those interested in the early childhood field, to teach actionable skills to support early childhood learning.
"The nanacourses will also provide a way for community members to dip their toe into the field of early education with the hope of inspiring more people to enter the profession," Elkins said.
Ultimately, the partnership between these organizations will show families and businesses that the early childhood community in eastern Arizona is poised to help families.
"This collaboration sends a very loud and clear message to our community that early childhood is important, and the better prepared and qualified our teachers are, the better our students will be prepared to enter kindergarten ready to succeed," Elkins said.