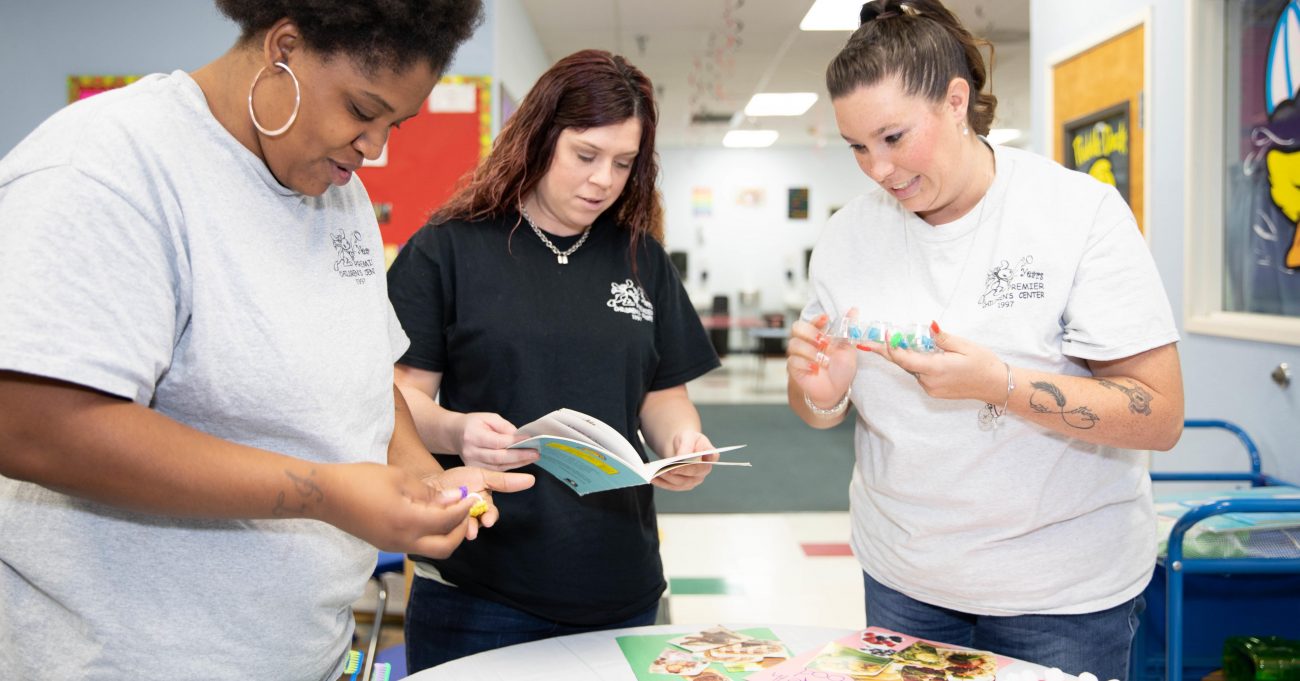 First Things First (FTF) is part of a $20 million federal grant project designed to improve literacy for underserved children.
 The U.S. Department of Education awarded Arizona in September the Comprehensive Literacy State Development (CLSD) grant which spans five years at $4 million per year.
"Children develop foundational language and pre-literacy skills well before kindergarten," said FTF CEO Marilee Dal Pra. "It is exciting to see the CLSD grant building on local collaborations to ensure that early educators get the training they need to engage young minds and foster language development and a love of reading in our youngest learners."
Arizona's CLSD grant project — developed through a collaboration between the Arizona Department of Education (ADE), Read On Arizona, and FTF — targets underserved children. These include children living in poverty, English learners, children with disabilities, Native American students, and those reading well below grade level. 
"The grant is part of a larger collaborative mission we have built around third grade reading being a critical factor," said FTF's Chief Program Officer Amy Corriveau. "Universally, for children to be set for life, they need to be able to read."
The partners looked at other states that recently had significant gains on the Nation's Report Card, also known as the National Assessment of Educational Progress (NAEP). Notably, Mississippi has made huge gains on the NAEP scores, ranking no. 1 in the nation for gains in fourth grade reading scores from 2017 to 2019.
"We really looked at what Mississippi was doing and we created this analysis of what it takes to move the needle here," Corriveau said. "And quality early learning experiences from birth to age 5 is part of that marker toward success."
ADE selected 23 subgrantees for the $20 million federal grant who will focus on improving reading skills for students most in need of additional supports. The subgrantees serve more than 13,000 children across eight Arizona counties and will receive funding to implement evidence-based strategies that drive higher language and literacy achievement for underserved children from birth through high school.
"I am thrilled to see this investment come to life in Arizona's schools. This critical funding will bring needed resources to Arizona's students, teachers and schools," said Superintendent of Public Instruction Kathy Hoffman. "It's more important than ever that we support all learners, particularly those who are struggling with their literacy skills."
The 23 subgrantees serve schools and early learning programs at 40 sites and will help advance literacy outcomes by: expanding professional development in the science of reading for more than 750 early care and PreK-12 educators; implementing high-quality language and literacy strategies to support struggling readers; purchasing evidence-based curricular and reading intervention materials; hiring literacy coaches to build teacher capacity; and strengthening community collaborations that drive higher language and literacy achievement for children from birth through high school.
In the birth to age 5 group, which makes up about 15% of the grant, the following organizations will receive funding:
Make Way for Books (Read On Pima County), an education community consortium, was awarded funding to implement their Neighborhood School Readiness Model that includes professional development and family engagement programming focused on improving early language and literacy.
Valley of the Sun United Way (Read On Avondale and Read On Phoenix), an education community consortium, was awarded funding to implement professional development and coaching for early education practitioners to support their ability to provide high-quality reading instruction to their students.
Western Arizona Council of Governments (Read On Yuma), an education community consortium and Head Start provider, was awarded funding to support practitioners with professional development focused on providing deeper knowledge of early literacy instruction.
Page Unified Preschool was awarded funding to support training in the science of reading for instructional staff, purchase of high-quality curriculum, evidence-based literacy supports, assessment tools and training and coaching to support social-emotional development of young children.
For the early childhood space of birth to age 5, the partners looked at the science of reading and what it takes to get children to read.
"The early learning environment matters," Corriveau said. "Children need a literacy enriched environment, which was written into the grant."
The early childhood teachers participating in the grant-funded programs will develop their skills and knowledge around the science of reading and what that looks like in an early learning classroom. They will be coached in LETRS professional training, which stands for Language Essentials for Teachers and Reading and Spelling.
"How do we build capacity so more folks can have access to the LETRS training?" Corriveau said. "We need to figure out the infrastructure and what coaching looks like. The people who are teaching others how to do it need to know the science of reading."
The 5-year grant will allow the system to be built and ultimately, increase the knowledge of the science of reading among early literacy teachers in the targeted Arizona communities.
"In year five, a family would expect that their child will be in a literacy enriched environment," Corriveau said. "They would walk into the child care center and see a robust selection of books, children choosing books and non-fiction writing samples on the wall.
"If you have good quality early childhood experiences, you should hear conversations with children and teachers. You want a family to hear the vocabulary in books, because it is (different than what is spoken at home). They're using complex language. That's what LETRS will give teachers — it will help them be intentional in promoting language and inquisitive thinking."