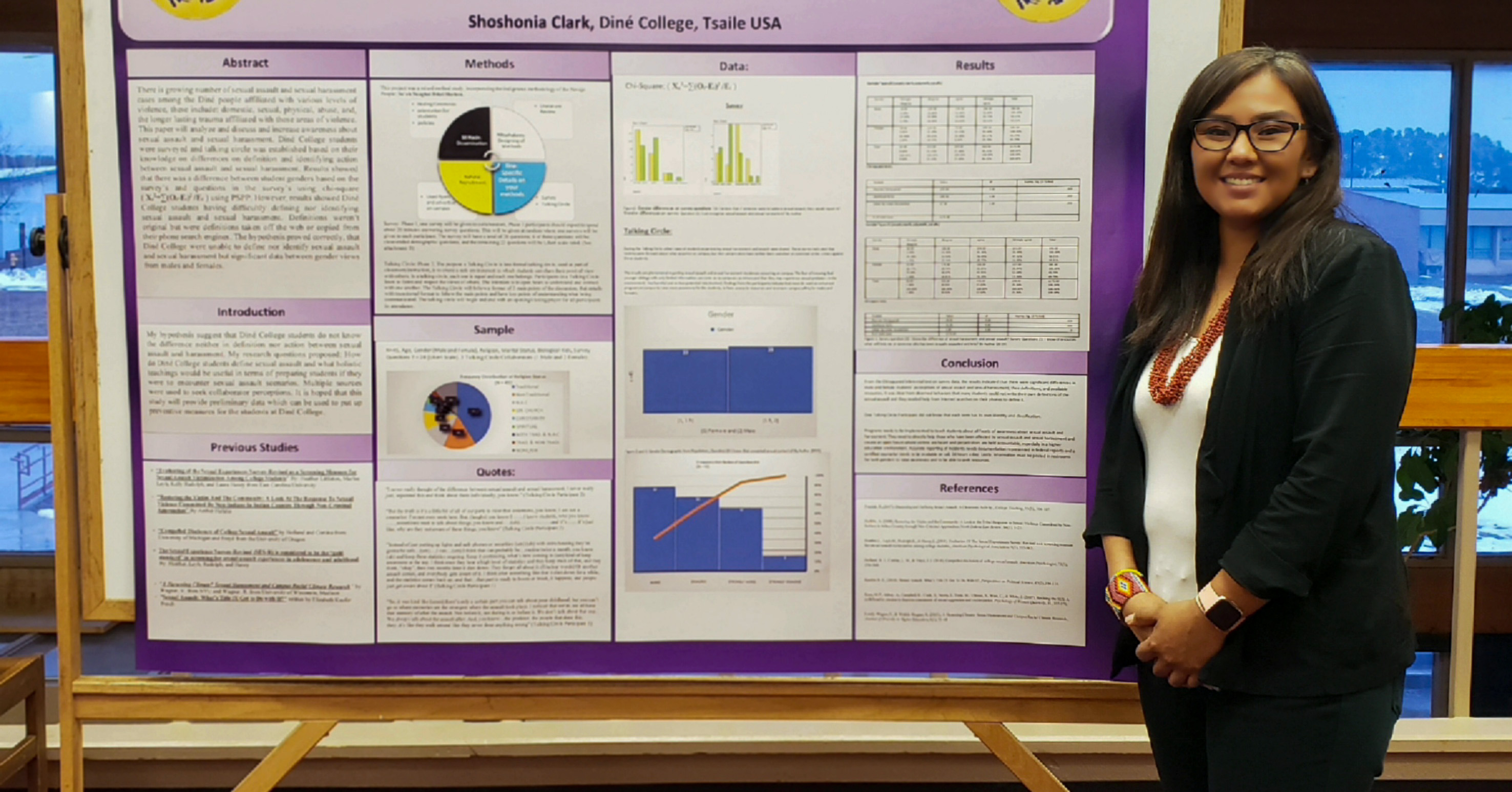 Shoshonia Water Clark views the world with a different lens.
Growing up on the Navajo Reservation has its challenges and the opportunities for Navajo people are sometimes scarce, she said. However, considering the many setbacks of the indigenous people, Clark said she is up for the challenge in trying to guide her people, starting with its youngest, in the right direction through the study of psychology.
Clark recently completed her bachelor's degree in psychology from Dine College and is a recipient of a First Things First College Scholarship. The FTF Navajo Nation Regional Partnership Council is one of 15 FTF regions that supports professional development opportunities for early childhood educators and professionals, including college scholarships.
Clark grew up in Rock Point, Arizona, and as a young adult struggled in her personal life. She survived a domestic abuse relationship, but was left haunted by low self-esteem and the life-threatening feelings of depression. With her belief in Navajo traditions and the support of her family, she made the ultimate decision to remove herself from the hostile environment to bounce back, be with her daughter and push herself through online classes that led to completing her degree.
The personal experience of hitting rock bottom and eventually taking steps to reach success caused her to want to learn more about how the human mind works. And, most importantly, to help young children on the reservation who have experienced similar traumatic experiences of domestic violence within their home, by helping to prevent or lessen the impact of these adverse childhood experiences, known as ACEs.
While Clark was taking college courses, she served an internship at Eve's Place, which assists victims of domestic, sexual and teen dating abuse.
"I was able to observe and work with young kids while their mothers or fathers got counseling or help with domestic violence situations," Clark said. "I could see how terrified they were of being around an adult, and it makes kids not want to trust adults, act out, flinch and be scared all the time. It's sad to see kids living in that kind of environment, where they witness things like that or have a 5-year-old tell you that they're at the shelter because their dad is hitting on their mom, or that 'daddy is mean to mommy and I have to watch brother or sister.' "
Now, Clark hopes to help young children who have experienced ACEs, which include nine types of childhood trauma ranging from household dysfunction to abuse. These frequent or prolonged adverse experiences are sources of toxic stress, which can harm children's developing brains so acutely that the effects show up decades later.
"These are areas that are affecting families now as we in high percentages of substance and alcohol abuse, along with sexual abuse and domestic violence in families," she said. "Children at a very young age can hold and remember lots of things within that time frame. I've worked with children even at the age of 5 who can mimic everything you do, say, act, or even feel. Their minds are just turning and gears are grinding to learn. I know that from a young age that children are very smart, and very loving people and individuals. They have their own little personalities and light to them."
By helping more future early childhood professionals receive education and training like Clark, FTF is expanding the pool of educators who can help Arizona's youngest children build a strong foundation.