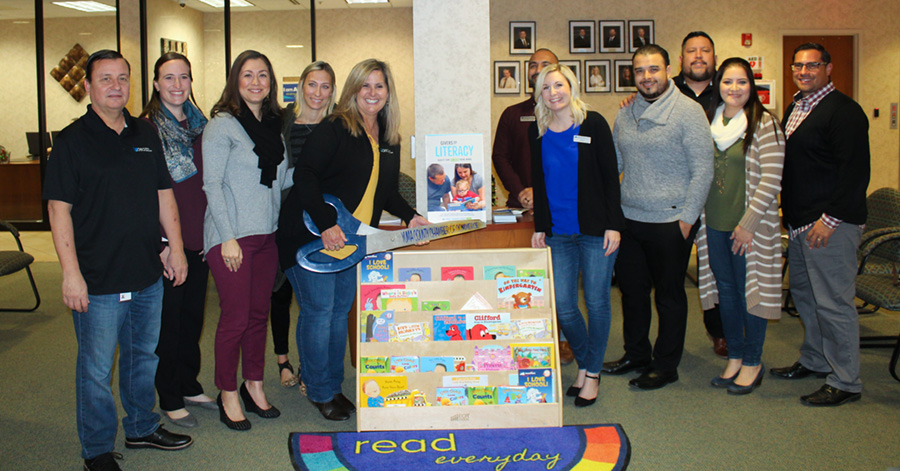 First Things First recently partnered with AEA Federal Credit Union in Yuma to open AEA's Read Everyday Corner at its main branch.
The small space with a colorful rug and book display encourages young children to enjoy a book while their parent does their banking. The child may also take the book home, if they chose. AEA hopes to expand the corners to the additional three branches in their network and also encourage other local businesses to set up their own reading corners.
"At AEA Federal Credit Union, we know the importance of early literacy and sharing children's books with the families we serve is a great way of increasing their knowledge," said Miriam Limon, AEA's senior director of marketing.
The relationship between the credit union and FTF came through Limon, who is an FTF Champion.
Champions are trained volunteers who actively give their time to raise awareness of the importance of early childhood development and health.
"Miriam saw how essential it was for families with young children to learn about the importance of early literacy while they visited AEA," said Nena Garcia, FTF Yuma Region community outreach coordinator. "She requested early brain development and literacy materials from FTF and provided a presentation to her CEO. During the presentation, Miriam shared her vision of establishing an early literacy area in their lobby."
The CEO agreed and soon the project took shape. AEA purchased the bookshelves and age-appropriate books for families with young children. And the FTF Yuma office provided family resource guides, parent information cards and bookmarks that build awareness about the importance of reading to children from birth.
"I encourage all businesses to consider having a children's reading area and promote the love for books," Limon said. "We are happy knowing children are learning while their parents are doing their business with us."
If you, or a business you know, are interested in setting up a similar early literacy area to encourage reading with infants, toddlers and preschoolers, connect with the FTF community outreach team by emailing Community@FirstThingsFirst.org. Please include the town or city where you live.