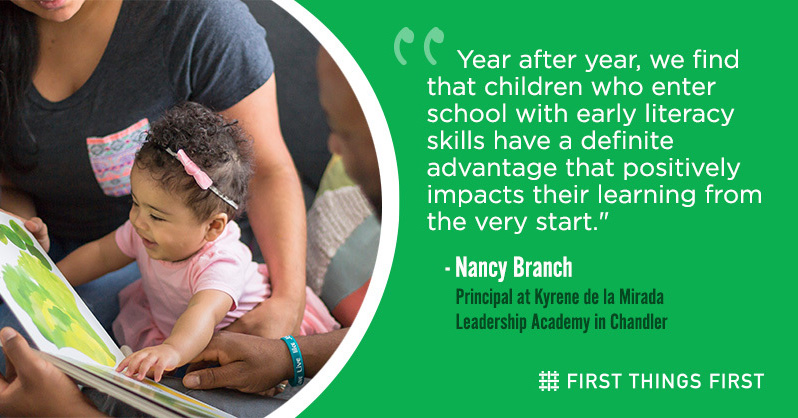 Local school officials know that the early years matter, especially when it comes to early literacy, which starts well before a child reaches a classroom. It begins before babies can talk and continues as they become toddlers and preschoolers. In fact, gaps in children's vocabulary start to appear as early as 18 months.
By the time children are 3 and 4 years old their vocabulary, attention and general knowledge are predictors of third– and fourth–grade reading comprehension. According to the 2018 AzMERIT standardized test results, less than half (44%) of Arizona's third graders passed the English Language Arts test.
The reality that third–grade reading ability is one of the best predictors of high school graduation is something that elementary school principals see on a daily basis.
Recently, school leaders from across Arizona shared why they believe early literacy matters. Here are some of their thoughts:
Nancy Branch, Kyrene de la Mirada Leadership Academy Principal in Chandler
"Year after year, we find that children who enter school with early literacy skills have a definite advantage that positively impacts their learning from the very start."
Jodi Gunning, Litchfield Elementary School District Superintendent
"Teaching very young children early literacy skills gives them an unshakable foundation for a lifetime of learning."
Tony Rhineheart, Sequoia Village School Principal in Show Low
"It is clear that we need to invest in developing readers with early interventions, quality instruction and literacy programs in the home."
Marco Antonio Ruiz, Western Valley School Principal in Phoenix
"We must reach our students from infancy to preschool by providing access to books and literacy resources, as well as educate our parents on the critical need to reinforce early literacy skills in the home."
Dawnafe Whitesinger, Dishchii'bikoh Community School Director of Instructional Programs in Cibecue
"When we help build strong, healthy children they will raise strong, healthy families, who will build strong, healthy communities."
Lisa Raymond, Mary C. O'Brien Elementary School Principal in Eleven Mile Corner
"Parents are their child's first teacher. Young children who have listened to stories read or told by their parents start off school with an advantage. Enjoy reading with your child, cherish the time spent reading and know you are making a difference in your child's future."
Steve King, Cottonwood-Oak Creek School District Superintendent
"There is little that has greater power in changing the trajectory of kids' and their family's lives than access to high-quality early childhood education programs."