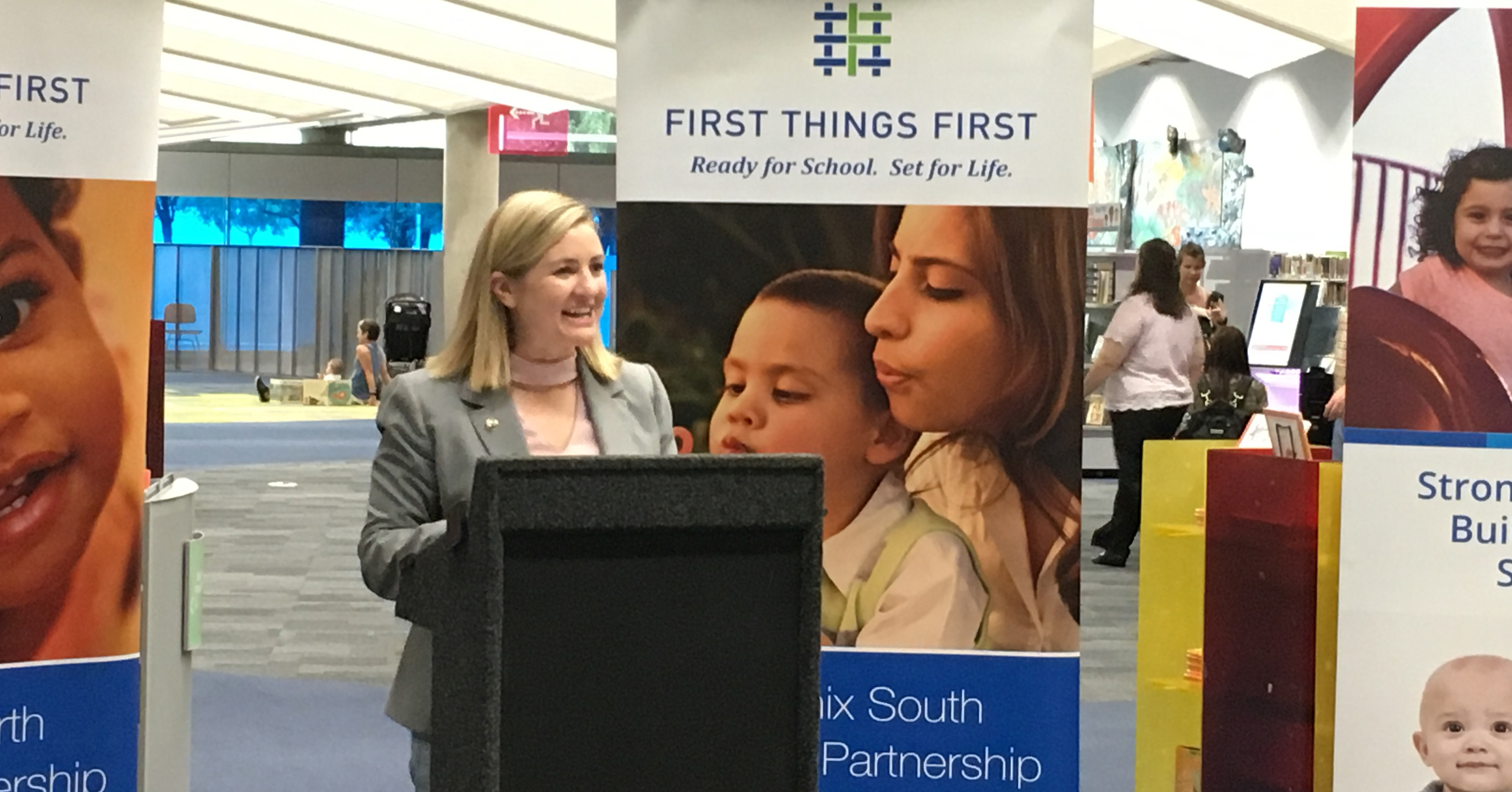 In an effort to reach more families from the northern reaches of the city to the southern edge, First Things First and the City of Phoenix have partnered to open four new family resource centers dedicated to providing services to families with children birth to age 5.
Phoenix Mayor Kate Gallego recently joined FTF CEO Marilee Dal Pra, along with others to celebrate the opening of one of the centers at Burton Barr Library.
"This has been a great effort of people coming together and saying we want to care about our kids," Gallego said in her opening remarks. "They are the future of our community, our most important asset and today's opening is a great symbol of that."
The dedicated area on the first floor of the library provides a space where parents or caregivers can check out books on parenting and a specially curated section of books that are developmentally appropriate for young children. There's also a meeting room where story times will be held, along with space for parenting classes.
FTF funds family resources centers throughout Maricopa County and in Santa Cruz County to help support parents as their child's first teacher. At these one-stop centers for families of kids birth to age 5, families and caregivers can attend parenting classes on topics such as early literacy, the importance of play to children's learning and how to deal with challenging behaviors.
The four new Phoenix Families First Resource Centers are located in the communities of Aeroterra in south Phoenix, Burton Barr in central Phoenix, Beuf Community Center in far north Phoenix and Cesar Chavez Laveen Village in the southern edge of the city.
"Each of these locations is a key cornerstone in its community and will make these resources far more accessible," Gallego said.
The centers provide families with children birth to age 5 with a place to learn more about other programs that can help support their child's health and learning, said Pastor Karen Stewart, chair of the FTF Phoenix North Regional Council.
"In partnership with schools, community centers and other neighborhood locations, family resource centers provide a one-stop-shop where parents can learn more about early brain development, participate in classes and workshops to expand their knowledge and confidence as their child's first teacher," she said.
In Phoenix last year, 14,600 caregivers attended family resource center workshops, more than 22,000 referrals were provided to families for other support services, and early childhood information and resources were provided to more than 43,000 caregivers.
The four additional centers expand the network serving families and children in the Maricopa County area to 37 family resource centers.
"We are very excited that all four of the centers are in locations such as libraries and community centers that are within walking distance for families and do not close down when schools are not in session," Stewart said. "This thoughtful approach to where we located the centers would not have been possible without the amazing staff at the city of Phoenix, including the City Manager's Office and the departments of Human Services, Parks and Recreation and Housing."