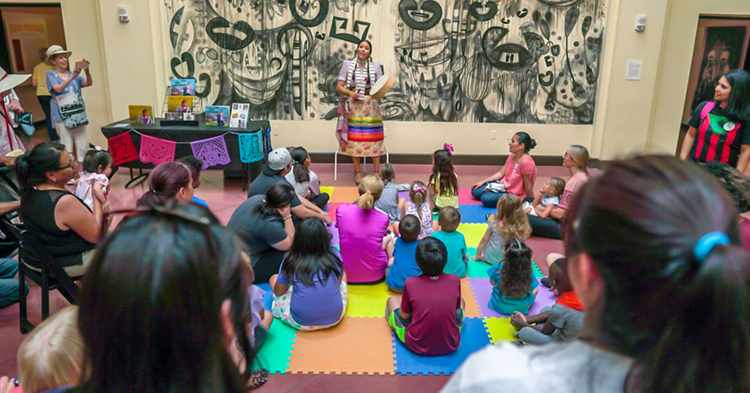 When people think of museums, they may think of hushed buildings filled with do-not-touch signs. But that stereotype is quickly changing as more museums reach out to the community and specifically invite families with young children.
In the Phoenix area, the nationally-recognized Heard Museum, which is dedicated to advancing American Indian art, joins other museums in finding more ways to welcome young children. Each year, the museum holds a family-friendly Dia de los Niños celebration at the end of April that features music, hands-on activities for kids and live performances, including storytelling. This year, First Things First partnered with the Heard Museum for the event.
It's just one way that the museum connects with families, said Sharah Nieto, the museum's director of education. "I have the privilege and pleasure of serving youth and their families on a daily basis," she said. "I love witnessing parents engage their children with indigenous art and culture because I know it will have a lifelong impact on their child's appreciation for art and most importantly, their understanding of others."
Since young children learn best through play and experiences that use all their senses to interact with the world, including interactive displays at the museum is also important.
"I enjoy watching a child's expression when they use a pump drill to create the hole in a bead for the first time, or hearing their amazement when they create something new and unexpected," Nieto said. "These moments and many others like it are the reasons why I believe that all kids and their adults should have opportunities to visit places like the Heard Museum."
Nieto, a former art teacher, also emphasizes that connecting with the arts can help children use their imagination. "These unique opportunities expose children to new experiences and create memories that will stay with them forever," she said.
The Heard Museum recently expanded gallery space dedicated to families. The space is called "It's your Turn: Color!" and offers a place for families to explore together. They can play with light and shadow, arrange bright shapes into patterns or test out their gross motor skills through a variety of hands-on activities.
Beyond the learning that can happen in this space, that shared time together interacting and exploring helps to strengthen parent-child relationships, which are the most important influences on early childhood brain development. And that shared experience may be the greatest benefit to encouraging more families to visit museums with their young children.