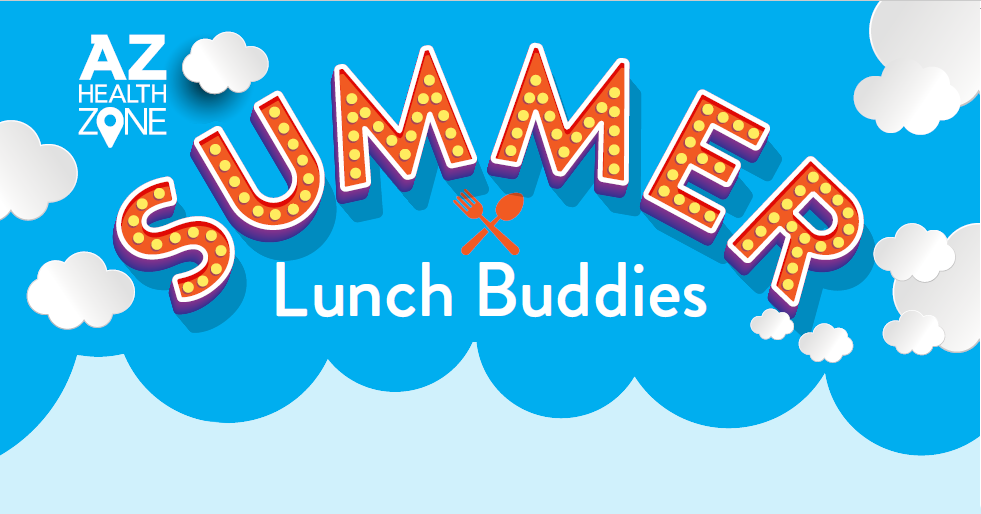 It's a cute name with a serious mission – Summer Lunch Buddies is a statewide campaign which connects families with the many schools, non-profit organizations or local governments across Arizona hosting no-cost summer meals for kids 18 and younger.
Getting the word out to families is the focus of many community partners, including the Arizona Department of Health Services and the Arizona Department of Education. For families with toddlers and preschoolers, First Things First wants them to know that free meals are also open to those younger age groups. This is especially important since more young children in Arizona live in poverty (27%) than their peers across the country (23%). In addition, about 1 in 4 children 17 and younger (23%) live in households that are food insecure, which is defined as not having access to enough food for an active and healthy life.
One of the many organizations participating in the summer meals program is St. Mary's Food Bank. The food bank runs Kids Café at 160 sites throughout six counties in Arizona. The sites are located as far south as Eloy, throughout Maricopa County and up to Kingman, Flagstaff and the Navajo Nation, said Jose Urteaga, the community engagement manager at St. Mary's Food Bank.
No matter where they live in the state, families can text the word FOOD to 877-877 and they'll be asked to respond with their full address to receive a list by text of the nearest summer meals site. The text service also includes the days and hours that breakfast and lunch are served.

"We're trying to make it easy for families to find out about the sites and go," Urteaga said. One of the best ways the food bank found to spread the information is through word of mouth, he said. The program's Facebook page makes it easy for people to share information with their informal networks.
"Even if you're not technically savvy, most people know Facebook," Urteaga said.
They also want families to know that their children can receive a meal every day.
"We want people to come in every single day," Urteaga said. "Let's say we're serving at a community center, you don't have to have a specific reason for your kids to come by for a meal."
And since the meals are on a two-week cycle, the food won't be repeated anytime during that cycle. A typical always has a dairy, grain, fruit, vegetable and protein. For example, it could be chicken sliders, a fruit cup, carrot sticks and milk.
Last year, the food bank served more than 300,000 meals during the summer, and they have capacity to serve more, as long as children show up.
"We don't want any child to go without food," Urteaga said.
Along with the text option, families can also visit azhealthzone.org/summerfood for meal locations and times. There is no cost and no registration is required.