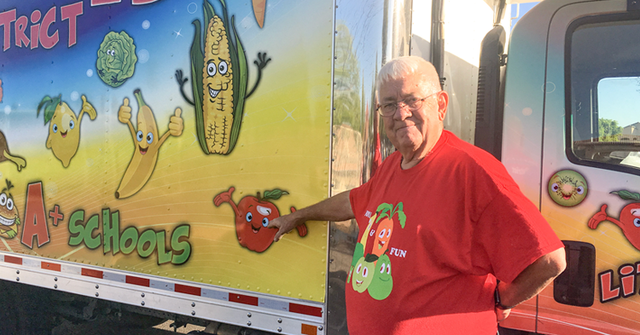 During the school year, David Schwake and his team feed up to 11,000 students healthy, nutritious breakfast and lunch meals in the Litchfield Elementary School District.
So you might think that summer break provides a well-deserved rest. Instead, Schwake, who is the district's Director of Food Services, says summer is even busier as the district prepares and serves breakfast, lunch and, at alternating locations, even dinner. Students enjoy meals from Monday through Saturdays as part of the statewide Summer Lunch Buddies program.
One recent hot summer morning, Schwake was unloading about 1,000 pineapples to use in that day's meals. But he doesn't mind the extra work, as long as he is helping more kids access nutritious foods during the summer – when it can be hard for some families to provide meals without the support of school lunch programs.
As a regional council member for the FTF Southwest Maricopa Region, Schwake also makes it his mission to ensure parents of toddlers and preschoolers know that the free summer meals are open for their young kids too.
"I've visited every child care provider and every business in the area to ask them to put up fliers to let families know that this is available for their kids," said Schwake, who was named a 2017 National Food Hero by the School Nutrition Association. "I ask employers to put up fliers by their time clocks."
School districts, as well as food banks and other organizations, can participate in the Summer Lunch Buddies program. Many of the organizations set up the free summer meal program at local parks, recreation centers and apartment complexes in high need areas – anywhere kids congregate.
Research shows that families that experience food insecurity tend to buy more processed and fast foods that contribute to overweight and obese children rather than lean cuts of meat and fresh fruits and vegetables, which are more expensive. Food security, especially access to nutritious foods, is critical for ending both child malnutrition, obesity and for helping young kids be ready for success once they enter kindergarten.
Although some may attribute childhood obesity to eating too much, many times kids under 5 are not eating enough of the right kinds of foods. Some children who are overweight or obese are simply not getting the nutrition they need to grow up healthy. In 2015, 18 percent of families with children in the U.S. experienced food insecurity, which is defined as not having access to enough food for an active and healthy life.
To find a free Summer Lunch Buddies site anywhere in Arizona, text the word FOOD to 877-877, or go online for an interactive map of locations.